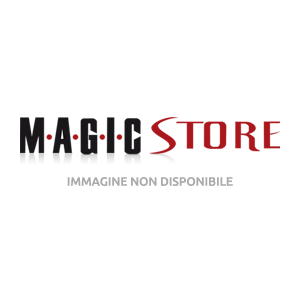 139.90 euro
Tipologia

Lingua

Commander Nuova Edizione 2013
Ogni Commander contiene un mazzo precostruito da 100 carte + 3 carte giganti foil dei leggendari Commander (che appaiono anche nella confezione).
I mazzi contengono carte prese da tutta la storia di Magic comprese anche 15 carte nuove in ogni mazzo.
Ci sono 51 nuove carte uniche suddivise fra i 5 mazzi (alcune carte appaiono in più mazzi).
Queste nuove carte sapranno non solo portare eccitazione per il formato Commander, ma sono anche legali per l'uso nei tornei Vintage e Legacy!
Scegli il tuo Commander per decidere quale miscela letale scatenare contro i tuoi avversari in questo formato di Magic unico nel suo genere. Nuove carte ti aiuteranno nel tentativo di impadronirti del campo di battaglia con esperienza ed audacia. Scegli saggiamente, Planeswalker, perché le opzioni a tua disposizione sono pari solo al numero di nemici che ti attendono!

Tematica
Commander (conosciuto anche come EDH) è il formato multigiocatore di Magic, sviluppato dai fan, più famoso di sempre. I nuovi mazzi Magic: The Gathering – Commander sono stati creati per supportare questo formato.
Questo è il primo mazzo nella storia di Magic a contenere nuove carte esclusive!
Ci sono un totale di 51 nuove carte di Magic disponibili nei cinque mazzi Magic: The Gathering – Commander. Ogni mazzo conterrà 15 nuove carte (le non comuni saranno presenti in più di un mazzo).

Commander è una variante di Magic divertente, non competitiva e multigiocatore che consente ai giocatori di utilizzare carte appartenenti a tutte le espansioni di Magic esistenti. Promuovere eventi in questo formato nei negozi è un ottimo modo per costruire una community interessata ad uno stile di gioco meno competitivo.


Magic Store
Magic Store nasce nel 1999 come negozio specializzato nell'Hobby Game. L'attività si sviluppa nel 2001 con l'apertura dello store online e l'inizio dell'attività di distribuzione. Oggi Magic Store distribuisce tutti i principali giochi di carte collezionabili e relativi accessori, miniature, giochi da tavolo, giocattoli e collezionabili in genere. Assortimento, servizio, cura del cliente e supporto alle attività di Gioco Organizzato sono la nostra missione. Mettici alla prova.