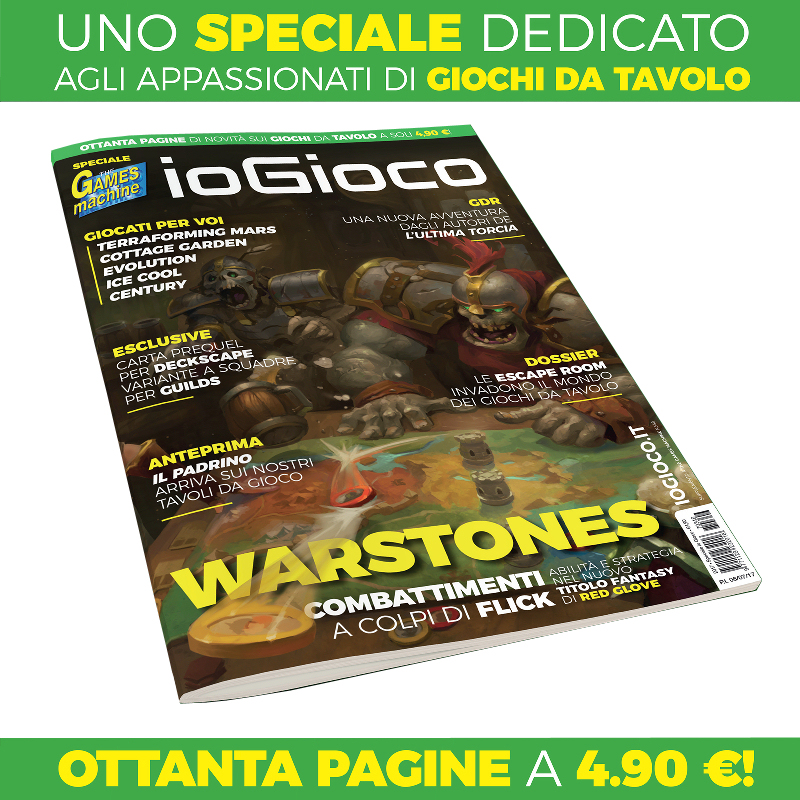 4.90 euro
(Evasione parziale - Q.tà limitata)
Tipologia

Lingua
80 PAGINE A COLORI
Io Gioco è una costola di The Games Machine che si dedica con passione al mondo del gioco tabletop. All'interno delle 80 pagine che compongono la rivista troverete un'informazione chiara, onesta e sincera sui giochi più recenti, ma anche tanti approfondimenti, speciali, anteprime e contenuti esclusivi!
I titoli del momento recensiti per voi, con voti multipli dati da diversi redattori della rivista, per avere differenti punti di vista sullo stesso gioco.
Anteprime che vi sveleranno i dettagli dei giochi in arrivo sui nostri tavoli.
Contenuti esclusivi utilizzabili durante le partite, creati appositamente per "Io Gioco" dagli stessi autori.

Una grafica fresca, moderna e accattivante!
Approfondimenti pensati per soddisfare le necessità dei giocatori più esperti e concepiti per stuzzicare la curiosità anche dei neofiti di questo mondo.
Guide Strategiche: i consigli degli esperti per vincere nelle sfide dei giochi più competitivi del momento
E ancora…
Una carta esclusiva per Io Gioco Deckscape: come si entra nel laboratorio del professor Thyme?
Un'avventura giocabile e indipendente dedicata a L'Ultima Torcia creata apposta dagli autori per Io Gioco.
Dossier: come ci si muove nel mondo di Kickstarter?
Vi raccontiamo lo Spiel des Jahre, il premio più importante del gioco da tavolo
Pimp my Game: Lorenzo Calvi e Flaminia Pozzuoli vi mostrano come rendere ancora più inquietanti le bellissime miniature di The Others.
Intervista a Carlo A. Rossi, autore de La Foresta Incantata.
Recensiti in questo speciale: Century:La via delle Spezie, Ice Cool, Terraforming Mars, Cottage Garden, La Valle dei Mercanti… e molti altri!
Anteprime sul tavolo di Io Gioco! Da Il Padrino a Apokalypsis.
Classici moderni: i titoli che hanno ridefinito il genere boardgame
News: le principali novità e avvenimenti dell'universo tabletop che ci aspettano nei mesi a venire
SOMMARIO
Rubriche
04 News
10 Personalità ludiche: Carlo A. Rossi
34 Dado critico: il giocatore imperfetto
44 Recensioni minute: La mansarda
68 Sgananzium: Barba & fustelle
76 Pimp my games!
82 Classici moderni
Avventure
14 L'Ultima torcia: Nelle fauci del lupo Dossier
12 Fantasy e GDR
20 Escape Room: prigionieri in una scatola?
26 Spiel Des Jahres: l'Oscar dei giochi parla tedesco
30 Kickstarter: finanziare giochi dal basso
Anteprime
36 Warstones
38 Citadels
40 Apokalypsis
42 Il padrino: l'impero dei Corleone
Recensioni
46 Tikal
48 La valle dei mercanti
50 Cottage garden
52 Evolution
54 Magic Maze
56 Terra-017
58 7th Sea
60 Century: la via delle spezie
62 Terraforming Mars
64 Kingdomino
66 Pozioni esplosive: il quinto ingrediente
70 Ice Cool
72 Guilds
Magic Store
Magic Store nasce nel 1999 come negozio specializzato nell'Hobby Game. L'attività si sviluppa nel 2001 con l'apertura dello store online e l'inizio dell'attività di distribuzione. Oggi Magic Store distribuisce tutti i principali giochi di carte collezionabili e relativi accessori, miniature, giochi da tavolo, giocattoli e collezionabili in genere. Assortimento, servizio, cura del cliente e supporto alle attività di Gioco Organizzato sono la nostra missione. Mettici alla prova.


Facebook