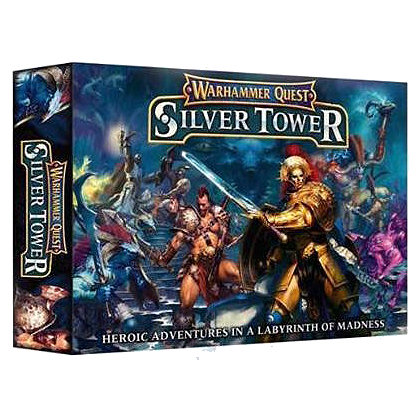 125.00 eur 89.90 euro
Tipologia

Lingua
Warhammer Quest: Silver Tower è la nuova versione del classico ed amatissimo gioco da tavolo Warhammer Quest, disponibile per la prima volta interamente in italiano!!!
Questo gioco in scatola a se stante può essere giocato da un minimo di 2 ed un massimo di 4 giocatori che lotteranno insieme per emergere dal claustrofobico labirinto creato dal perfido Tzeentch nella torre argentata, combattendo l'uno al fianco dell'altro per sconfiggere tutti i mostri che quest'ultimo farà apparire sul loro cammino. Ognuno dei giocatori controllerà uno degli eroi (scegliendo fra i 6 disponibili) e, a turno, anche i mostri. Grazie a questo particolare, la dinamica del gioco - prettamente cooperativo - stuzzicherà anche i giocatori più agguerriti e competitivi i quali, nel loro turno di controllo dei mostri, si divertiranno a mettere in difficoltà gli altri eroi. Del resto, se volete saperne di più, nel libro Warhammer Quest Silver Tower: Labyrinth of the Lost (disponibile solo in inglese e anch'esso in uscita il 21 maggio p.v.) scopriremo che ciascuno degli eroi ha un buon motivo per non fidarsi degli altri! Riusciranno le avversità ad unire i nostri eroi una volta per tutte o prevalrà l'individualità? Sta a voi e ad i vostri clienti scoprire come si concluderà questa nuova emozionante avventura!!
All'interno della scatola troverete:
-51 miniature in plastica esclusive* (alcune completamente nuove ed altre mai rilasciate in questa posa) finemente scolpite e con un livello di dettaglio mai visto prima. Nello specifico: 6 Eroi di diverse razze: (1 Knight Questor, paladino degli StormCast Eternals, 1 Darkoath Chieftan, barbaro degli Umani, 1 FyreSlayer Doomseeker, guerriero dei Nani, 1 Excelsior Warpriest, guaritore dell'Impero accompagnato dal suo fedele Gryphon Hound, 1 Mistweaver Saih ed 1 Tunebrael Shard, rispettivamente una maga ed un assassino degli Aelfs) e 45 Denizens, ovvero i mostri che popolano la torre argentata (1 nuovo Gaunt Summoner, 2 Skaven Deathrunners, 8 Familiars, 8 Kairic Alcolytes o Cultisti di Tzeentch, 6 Tzaangars, 2 Orrori Rosa che una volta sconfitti esploderanno in 4 Orrori Blu e successivamente in 4 coppie di Orrori Brimstone, 8 Grot Scuttings e 1 temibile Ogroid Thaumaturge, il minotauro del labirinto!);
-Un Adventure Book (che vi guiderà passo passo attraverso le varie stanze del labirinto);
-Un Guide Book (libro di regole);
-13 plance a doppia faccia con un acccativante design vintage;
-36 carte abilità e tesoro;
-40 carte eventi;
Tanti e diversi dadi e segnalini colorati che conferiscono al gioco un forte impatto visivo.
Magic Store
Magic Store nasce nel 1999 come negozio specializzato nell'Hobby Game. L'attività si sviluppa nel 2001 con l'apertura dello store online e l'inizio dell'attività di distribuzione. Oggi Magic Store distribuisce tutti i principali giochi di carte collezionabili e relativi accessori, miniature, giochi da tavolo, giocattoli e collezionabili in genere. Assortimento, servizio, cura del cliente e supporto alle attività di Gioco Organizzato sono la nostra missione. Mettici alla prova.


Facebook