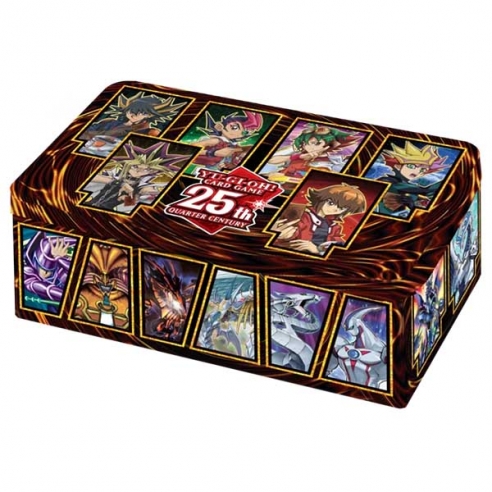 24.90 eur 19.99 euro
Articolo non in promozione

Tipologia

Lingua
Celebrate il 25° anniversario con il nostro 25th Anniversary Tin: Dueling Heroes che includono le Rare Prismatic Secrets ed un'extra Super Rara Quarter Century in ogni Tin!
Le Rare Prismatic Secrets sono solo una delle features che i duellisti amano di più degli annuali Mega-Pack dal momento che le Tins sono l'unico mezzo per trovare questa esclusiva e bellissima tipologia di Rara. Quest'anno ce ne saranno ben due in ogni Tin!
Ogni 25th anniversary Tin: Dueling Heroes include 1x18 carte Mega-Pack, ciascuna con DUE Rare Prismatic Secrets, due Ultra Rare, una Super Rara e 12 Comuni
Totale per ogni tin:
6 Rare Prismatic Secrets
6 Ultra Rare
3 Super Rare
3 Rare
36 Comuni
1 Super Rara Quarte Century
Questo enorme set Mega-Pack contiene circa 300 carte dai set più recenti: Battle of Chaos, Dimension Force, Darkwing Blasr, Tactical Masters, The Grand Creators e molti altri!
In aggiunta a ciò, ogni Tin inluderà una versione Rara Segreta Quarter Century di uno dei 16 mostri che decorano i lati della tin - alcuni dei più famosi e iconici mostri utilizzati dalla serie Dueling Heroes
Magic Store
Magic Store nasce nel 1999 come negozio specializzato nell'Hobby Game. L'attività si sviluppa nel 2001 con l'apertura dello store online e l'inizio dell'attività di distribuzione. Oggi Magic Store distribuisce tutti i principali giochi di carte collezionabili e relativi accessori, miniature, giochi da tavolo, giocattoli e collezionabili in genere. Assortimento, servizio, cura del cliente e supporto alle attività di Gioco Organizzato sono la nostra missione. Mettici alla prova.


Facebook