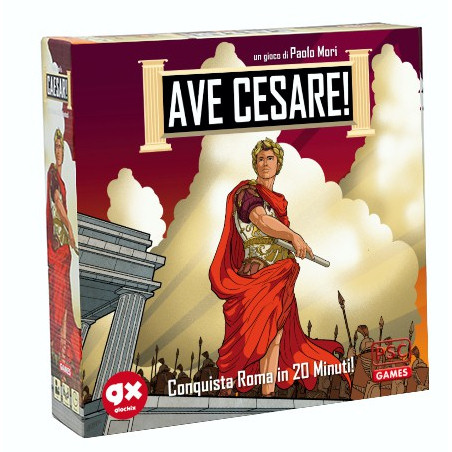 34.95 euro
Tipologia

Lingua
Gioco da tavolo in italiano
Lo scontro tra Cesare e Pompeo segnerà il destino della Repubblica Romana: i giocatori dovranno comandare le loro legioni schierandole strategicamente nei principali campi di battaglia per cercare di prendere il controllo delle province e diventare capo assoluto della Repubblica.
Ave Cesare è un gioco veloce e coinvolgente da 20 minuti a partita che si spiega in 3 minuti. E' stato realizzato da Paolo Mori (autore tra gli altri di Pandemia: Fall of Rome, Guerra Lampo, Libertalia, Dogs of War, Pocket Battles) e ci si può giocare in 1-2 giocatori. Fa parte della serie di Guerra Lampo, che ha avuto un grandissimo successo l'anno scorso.
Il gioco qui in vendita è l'edizione italiana ed include le espansioni e la versione in solitario.
Spese di spedizioni gratuite
Magic Store
Magic Store nasce nel 1999 come negozio specializzato nell'Hobby Game. L'attività si sviluppa nel 2001 con l'apertura dello store online e l'inizio dell'attività di distribuzione. Oggi Magic Store distribuisce tutti i principali giochi di carte collezionabili e relativi accessori, miniature, giochi da tavolo, giocattoli e collezionabili in genere. Assortimento, servizio, cura del cliente e supporto alle attività di Gioco Organizzato sono la nostra missione. Mettici alla prova.


Facebook