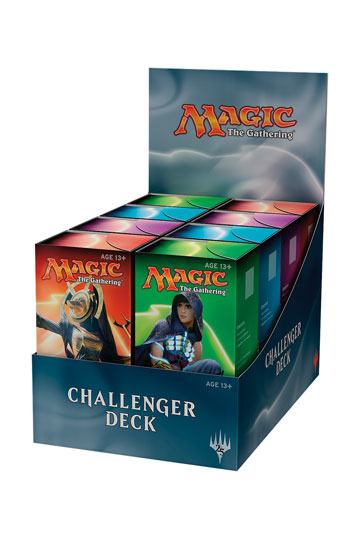 199.00 eur 179.99 euro
Tipologia

Lingua

Prodotto disponibile solo in lingua Inglese


Challenger Decks are the quick window into Standard and are intended for players who want to skip deckbuilding and jump into Standard at their local Friday Night Magic right away.
There are four decks built from some of the best strategies in Standard.
Each Challenger Deck comes with a complete sixty-card main deck and a fifteen-card sideboard and is intended to be playable and competitive at a local level right out of the box. All cards will have been previously printed in Standard and are Standard-legal.
These decks are a great purchase for newer players looking to get into Standard but can also appeal to veteran players thanks to the powerful cards in each deck.
This display contains 8 Challenger Decks, each containing:
- 60-card main deck
- 15-card sideboard
- A box capable of holding 75 sleeved cards
- Spindown life counter
- Quick reference guide

Magic Store
Magic Store nasce nel 1999 come negozio specializzato nell'Hobby Game. L'attività si sviluppa nel 2001 con l'apertura dello store online e l'inizio dell'attività di distribuzione. Oggi Magic Store distribuisce tutti i principali giochi di carte collezionabili e relativi accessori, miniature, giochi da tavolo, giocattoli e collezionabili in genere. Assortimento, servizio, cura del cliente e supporto alle attività di Gioco Organizzato sono la nostra missione. Mettici alla prova.


Facebook