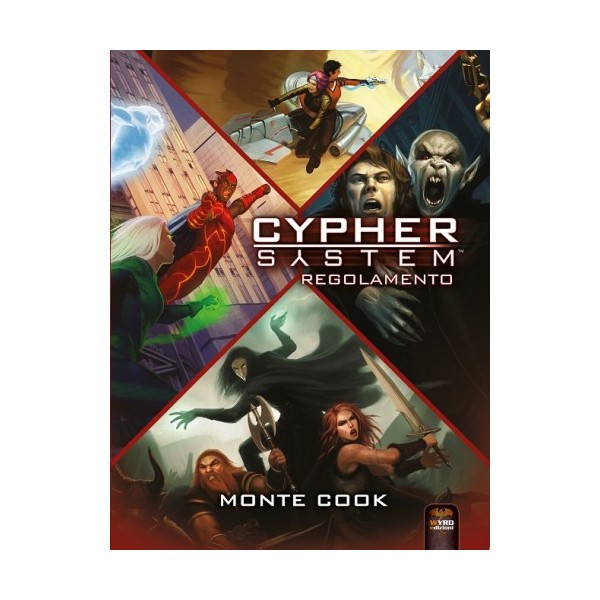 59.99 euro
Tipologia

Lingua
Gioco di ruolo in italiano - Manuale Base
Il Manuale del Cypher System è il sistema di regole che sta alla base dei pluripremiati Numenera e The Strange. Realizzato dopo l'enorme successo di Numenera e The Strange contiene tutte le regole per creare ambientazioni proprie e di generi diversi, offrendo, di fatto, tutto il necessario per dar vita a mondi basati sulle regole di Numenera e di The Strange – L'Anomalia senza gli elementi strettamente connessi alle loro ambientazioni, ma con gli strumenti per farne di proprie
basandosi sul genere prescelto.
Horror vittoriano? Fantasy epico? Spionaggio? Epopea spaziale tra le galassie? Il volume che stringete fra le mani adatta il Cypher System, acclamato e premiato dalla critica per Numenéra e The Strange – L'Anomalia, a un'infinità di possibili campagne e generi, mettendovi a disposizione un set completo di regole e centinaia di opzioni del personaggio, creature, crypto e altre risorse ancora. Tutto ciò di cui avete bisogno per giocare qualsiasi partita con il Cypher System!
Portate il Cypher System ai limiti della vostra immaginazione, con questo corposo manuale di regole che estende il sistema alle ambientazioni fantasy, di fantascienza, horror, contemporanee, di supereroi e a tutte quelle create dalla vostra fantasia.
Questo volume comprende:
• Un regolamento di gioco completo.
• Regole specifiche per i generi e consigli per le partite fantasy, contemporanee, di fantascienza, horror o di supereroi.
• Regole per il combattimento tra veicoli, l'artigianato, le intuizioni dei personaggi e molto altro.
• Quattro nuovi tipi del personaggio, ciascuno altamente personalizzabile a seconda della vostra ambientazione, oltre a 50 descrittori e a più di 70 focus.
• Pagine e pagine di equipaggiamento, centinaia di crypto e artefatti, e quasi 70 creature e PNG.
• Una grandiosa e agevole guida per il Game Master su come adattare il Cypher System a una varietà di ambientazioni, e su come condurre partite veloci, divertenti ed entusiasmanti.
• Nuove regole, sistemi e contenuti da usare con Numenéra e The Strange – L'Anomalia.
Magic Store
Magic Store nasce nel 1999 come negozio specializzato nell'Hobby Game. L'attività si sviluppa nel 2001 con l'apertura dello store online e l'inizio dell'attività di distribuzione. Oggi Magic Store distribuisce tutti i principali giochi di carte collezionabili e relativi accessori, miniature, giochi da tavolo, giocattoli e collezionabili in genere. Assortimento, servizio, cura del cliente e supporto alle attività di Gioco Organizzato sono la nostra missione. Mettici alla prova.


Facebook