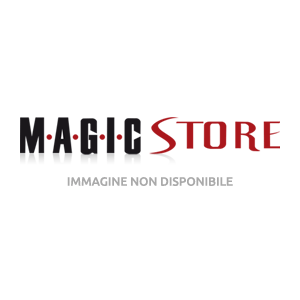 109.90 eur 104.99 euro
Articolo non in promozione

Tipologia

Lingua

Preordine

Disponibile dal 28 febbraio
Dragonlance: Shadow of the Dragon Queen Deluxe Edition (D&D Adventure, DM Screen + Warriors of Krynn board game).
The army of the evil Dragon Queen marches across Krynn, opposed by an alliance of desperate defenders. On the battlefield and beyond, it's up to a small band of adventurers to turn the tide of battle and save Krynn.
Experience these heroes' adventures in both the Dragonlance: Shadow of the Dragon Queen Dungeons & Dragons adventure and the Warriors of Krynn cooperative board game!
Board game components: 1 scenario book, 1 rulebook, 6 hero figures, 7 custom dice, 1 key moment tracker, 6 hero boards, 130 plastic markers, 9 double-sided battle tiles, 22 double-sided adventure tiles, 106 tokens, 323 cards, and 1 storage tray.
Spese di spedizioni gratuite
Magic Store
Magic Store nasce nel 1999 come negozio specializzato nell'Hobby Game. L'attività si sviluppa nel 2001 con l'apertura dello store online e l'inizio dell'attività di distribuzione. Oggi Magic Store distribuisce tutti i principali giochi di carte collezionabili e relativi accessori, miniature, giochi da tavolo, giocattoli e collezionabili in genere. Assortimento, servizio, cura del cliente e supporto alle attività di Gioco Organizzato sono la nostra missione. Mettici alla prova.


Facebook