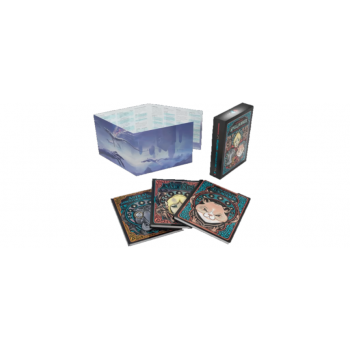 69.90 eur 59.42 euro
Tipologia

Lingua
An alternative art cover with a distinctive design and soft-touch finish is available exclusively in game stores.

SET SAIL FOR THE STARS!
A thrilling space-based adventure setting for the world's greatest roleplaying game.
Spelljammer: Adventures in Space presents the Astral Plane as a Dungeons & Dragons campaign setting unlike any other. Home of the stars and gateway to the heavens, the Astral Plane teems with excitement and possibility. With the help of magic, spelljammers can cross the oceans of Wildspace, ply the silvery void known as the Astral Sea, and hop between worlds of the D&D multiverse.

This set contains everything a Dungeon Master needs to run adventures and campaigns set in the starlit realms of Wildspace and the Astral Sea, as well as new options for players who want to create characters at home in this fantastic setting.

COMPONENTS:

The Astral Adventurer's Guide, a 64-page hardcover book for players and Dungeon Masters that presents the Astral Plane as a campaign setting and includes space-based character options, spells and magic items, deck plans and descriptions for spelljamming ships, and more
Boo's Astral Menagerie, a 64-page hardcover book for Dungeon Masters that presents game statistics and descriptions for over 60 creatures found in Wildspace and the Astral Sea, including astral elves, cosmic horrors, lunar and solar dragons, murder comets, and space clowns.
Light of Xaryxis, a 64-page hardcover adventure for Dungeon Masters that is set in the Astral Plane and designed for characters of levels 5–8
Double-sided poster map of the Rock of Bral, an asteroid-city that can serve as both an adventure location and a campaign hub in the Astral Plane
Sturdy, four-panel Dungeon Master's screen designed for use with the books in this set
Spese di spedizioni gratuite
Magic Store
Magic Store nasce nel 1999 come negozio specializzato nell'Hobby Game. L'attività si sviluppa nel 2001 con l'apertura dello store online e l'inizio dell'attività di distribuzione. Oggi Magic Store distribuisce tutti i principali giochi di carte collezionabili e relativi accessori, miniature, giochi da tavolo, giocattoli e collezionabili in genere. Assortimento, servizio, cura del cliente e supporto alle attività di Gioco Organizzato sono la nostra missione. Mettici alla prova.


Facebook