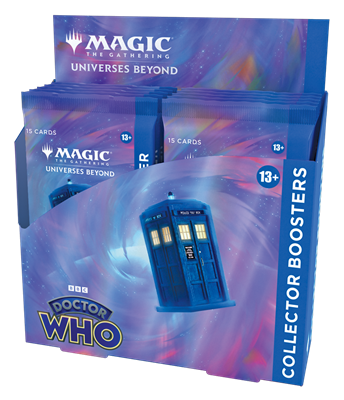 269.90 eur 249.99 euro
Articolo non in promozione

Tipologia

Lingua
Quando apri uno di questi Collector Booster approvati dal Dottore, troverai carte di Doctor Who classiche e moderne, offrendo ai fan i momenti, i personaggi e i luoghi più fantastici di tutta la storia della amata serie della BBC. Ogni bustina contiene carte con trattamenti speciali che celebrano ciò che rende lo show così iconico, inclusi 2 carte TARDIS Showcase (con artwork alternativo e cornici ispirate alla TARDIS), 6-7 carte Extended-Art (carte senza cornice che mostrano l'artwork nella sua piena gloria), tantissime carte Rare e una miriade di carte foil lucenti, inclusi almeno 3 di un tipo speciale di foil, le carte Surge Foil.
Questa scatola di Collector Booster di Doctor Who contiene 12 Collector Booster di Doctor Who. Ogni bustina contiene 15 carte di Magic: The Gathering, per un totale di 12 carte foil (3-10 Surge Foil e 2-9 Rainbow Foil) e 1 token double-sided foil Surge Foil o Traditional Foil. Ogni bustina include una combinazione di 7-14 carte di rarità Rare o superiore, fino a 7 carte Uncommon, fino a 5 carte Common e 1 carta Land.
VIAGGIA CON IL SIGNORE DEL TEMPO IN UN TIPO DI SCATOLA DIVERSO - Porta i personaggi amati di Doctor Who, i cattivi e gli episodi memorabili alla vita sul tuo tavolo da gioco con un'arte incredibile e meccaniche di gioco piene di intrighi temporali e misteri.
UN GIOCO CHE UNISCE ARTE, STORIE E STRATEGIA - Magic: The Gathering è un gioco di carte collezionabili che combina una profonda strategia con arte e meccaniche che esplorano i temi di un mondo e una storia particolari. Che tu voglia giocare una partita informale con gli amici, collezionare carte interessanti o competere a livello professionale, Magic ti dà il benvenuto all'Adunanza.
COLLEZIONA CARTE RARE E CON CORNICI SPECIALI - I Collector Booster sono un modo per ottenere le carte più incredibili di Doctor Who; ogni bustina contiene 7-14 carte di rarità Rare o superiore e una miriade di trattamenti speciali, inclusi 6-7 carte Extended-Art.
TRATTAMENTI DIMENSIONALMENTE TRASCENDENTALI - Ogni bustina contiene anche 2 carte TARDIS Showcase, utilizzando il Circuit del Camaleonte per trasformare le carte di Magic nella tua astronave temporale preferita, con cornici e artwork alternativi.
PIENE DI CARTE FOIL LUCENTI - Ottieni più carte lucenti di quante tu ne possa contare con un cacciavite sonico; ogni bustina contiene un totale di 12 carte che brillano con un magnifico trattamento foil, inclusi 3-10 speciali Surge Foil.
Contenuto:
12 Collector Booster di Universes Beyond: Doctor Who MTG
15 carte di Magic + 1 token foil in ogni bustina
6-7 carte Extended-Art e una legione di altri trattamenti speciali in ogni bustina
7-14 carte di rarità Rare o superiore in ogni bustina
12 carte foil in totale in ogni bustina.
Spese di spedizioni gratuite
Magic Store
Magic Store nasce nel 1999 come negozio specializzato nell'Hobby Game. L'attività si sviluppa nel 2001 con l'apertura dello store online e l'inizio dell'attività di distribuzione. Oggi Magic Store distribuisce tutti i principali giochi di carte collezionabili e relativi accessori, miniature, giochi da tavolo, giocattoli e collezionabili in genere. Assortimento, servizio, cura del cliente e supporto alle attività di Gioco Organizzato sono la nostra missione. Mettici alla prova.


Facebook