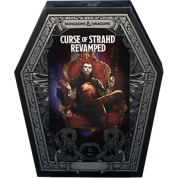 99.90 euro
Tipologia

Lingua
Supplemento per D&D 5a Edizione in inglese - Edizione Premium
Sotto un cielo tempestoso, la figura del Conte Stahd Von Zarovich si erge contro le antiche mura del Castello di Ravenloft.
Frastornanti fulmini si librano al di sopra delle guglie. L'ululato del vento aumenta mentre il vampiro volge il suo sguardo giù, verso il villaggio di Barovia. Molto più in basso, ma non oltre la sua acuta vista, un gruppo di avventurieri è appena entrato nel suo dominio.
Sul volto di Strahd è accennato un sorriso, come se il suo oscuro piano avesse avuto inizio.
Sapeva che sarebbero venuti, anche perchè... tutto faceva parte del suo progetto. Un fulmine squarciò il buio, ma Strahd se ne era già andato. Solo il sibilo del vento riempiva l'aria di mezzanotte.
Il signore del Castello di Ravenloft avrà ospiti per cena... e voi siete invitati.
Curse of Strahd è un'avventura horror-fantasy per personaggi di livello 1-10 che fornirà al Dungeon Master tutto il necessario per creare un'esperienza di gioco memorabile.
In questa nuovissima edizione premium troverete:
Il manuale dell'avventura Curse of Strahd
Un inserto da 20 pagine Creatures of Horror che mostrerà le creature presenti nel manuale
Un booklet per il mazzo dei tarocchi
Uno schermo unico ed esclusivo presente solo in questo prodotto
Una scheda con da un lato l'immagine dello Strahd Von Zarovich e dall'altro le sue caratteristiche
Un mazzo da 50 tarocchi FOIL da utilizzare durante l'avventura
Un esclusivo box per contenere i tarocchi
12 cartoline (con quattro immagini differenti) che puoi utilizzare per invitare i tuoi amici a giocare l'avventura
Spese di spedizioni gratuite
Magic Store
Magic Store nasce nel 1999 come negozio specializzato nell'Hobby Game. L'attività si sviluppa nel 2001 con l'apertura dello store online e l'inizio dell'attività di distribuzione. Oggi Magic Store distribuisce tutti i principali giochi di carte collezionabili e relativi accessori, miniature, giochi da tavolo, giocattoli e collezionabili in genere. Assortimento, servizio, cura del cliente e supporto alle attività di Gioco Organizzato sono la nostra missione. Mettici alla prova.


Facebook