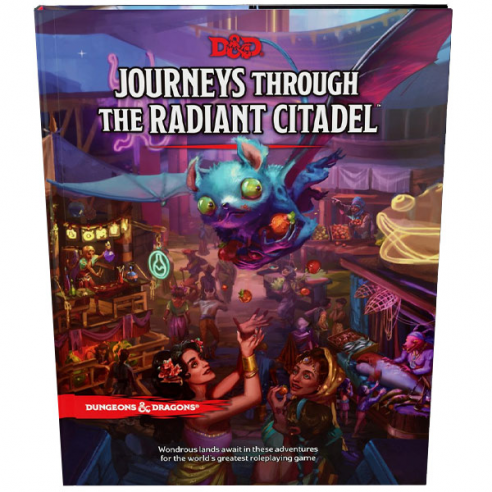 49.90 eur 39.90 euro
Tipologia

Lingua
Supplemento per D&D 5a Edizione in inglese
LIGHT YOUR PATH TO ADVENTURE
An anthology of thirteen stand-alone adventures set in wondrous lands for the world's greatest roleplaying game.
Through the mists of the Ethereal Plane shines the Radiant Citadel. Travelers from across the multiverse flock to this mysterious bastion to share their traditions, stories, and calls for heroes. A crossroads of wonders and adventures, the Radiant Citadel is the first step on the path to legend. Where will your journeys take you?
Journeys through the Radiant Citadel is a collection of thirteen short, stand-alone D&D adventures featuring challenges for character levels 1–14. Each adventure has ties to the Radiant Citadel, a magical city with connections to lands rich with excitement and danger, and each can be run by itself or as part of an ongoing campaign. Explore this rich and varied collection of adventures in magical lands.
Thirteen new stand-alone adventures spanning levels 1 to 14, each with its own set of maps
Introduces the Radiant Citadel, a new location on the Ethereal Plane that connects adventurers to richly detailed and distinct corners of the D&D multiverse
Each adventure can be set in any existing D&D campaign setting or on worlds of your own design
Introduces eleven new D&D monsters
There's a story for every adventuring party, from whimsical and light to dark and foreboding and everything in between
ALT COVER
Spese di spedizioni gratuite
Magic Store
Magic Store nasce nel 1999 come negozio specializzato nell'Hobby Game. L'attività si sviluppa nel 2001 con l'apertura dello store online e l'inizio dell'attività di distribuzione. Oggi Magic Store distribuisce tutti i principali giochi di carte collezionabili e relativi accessori, miniature, giochi da tavolo, giocattoli e collezionabili in genere. Assortimento, servizio, cura del cliente e supporto alle attività di Gioco Organizzato sono la nostra missione. Mettici alla prova.


Facebook