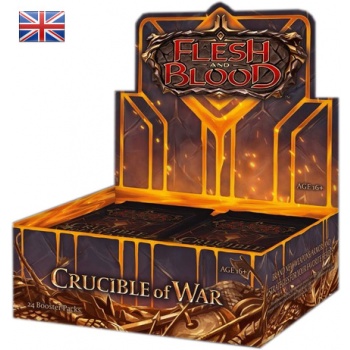 120.00 eur 89.99 euro
(Evasione parziale - Q.tà limitata)
Articolo non in promozione

Tipologia

Lingua
Equip Your Hero, Prepare to Fight!
Throw open the armories and turn up the forge, and rally your allies from near and far.
Bring all your skill, luck, and your damn best gear to bear; as you're plunged headfirst into the Crucible of War.
Crucible of War is a supplementary booster set that introduces powerful weapons and equipment, and opens up new strategies and deck building options for all your favourite classes.
Flesh and Blood - 100% Great Games!
Product Configuration:
• 198 cards in set
• 10 cards per pack
• 24 packs per display
• 4 displays per case
Rarity Distribution:
• Premium Foil - 1 per pack
• Rare or higher - 1 per pack
• Rare - 1 per pack
• Common - 7 per pack
Spese di spedizioni gratuite
Magic Store
Magic Store nasce nel 1999 come negozio specializzato nell'Hobby Game. L'attività si sviluppa nel 2001 con l'apertura dello store online e l'inizio dell'attività di distribuzione. Oggi Magic Store distribuisce tutti i principali giochi di carte collezionabili e relativi accessori, miniature, giochi da tavolo, giocattoli e collezionabili in genere. Assortimento, servizio, cura del cliente e supporto alle attività di Gioco Organizzato sono la nostra missione. Mettici alla prova.


Facebook