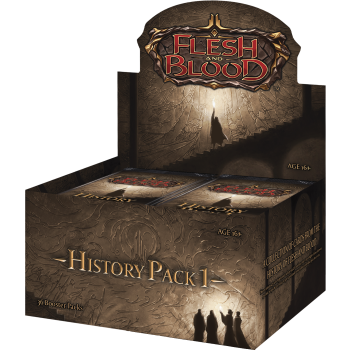 149.99 eur 84.99 euro
(Evasione parziale - Q.tà limitata)
Articolo non in promozione

Tipologia

Lingua
Venture into the vaults of Rathe and discover the origins of Flesh and Blood with History Pack 1.

History Pack 1 contains many of the key cards from the first year of Flesh and Blood (WTR/ARC/CRU), curated into a single white border set. An ideal product for the next generation of heroes looking to grasp the history of Rathe witnessed by those who went before.

Pack contents: 1 rare or higher, 1 rare, 8 commons, for 10 cards total.

427 card set (9 Legendary, 62 Majestic, 118 Rares, 238 Commons)

Designed to give players joining the game access to key cards from Flesh and Blood's past.
Prodotto soggetto ad alloccazione.
Spese di spedizioni gratuite
Magic Store
Magic Store nasce nel 1999 come negozio specializzato nell'Hobby Game. L'attività si sviluppa nel 2001 con l'apertura dello store online e l'inizio dell'attività di distribuzione. Oggi Magic Store distribuisce tutti i principali giochi di carte collezionabili e relativi accessori, miniature, giochi da tavolo, giocattoli e collezionabili in genere. Assortimento, servizio, cura del cliente e supporto alle attività di Gioco Organizzato sono la nostra missione. Mettici alla prova.


Facebook