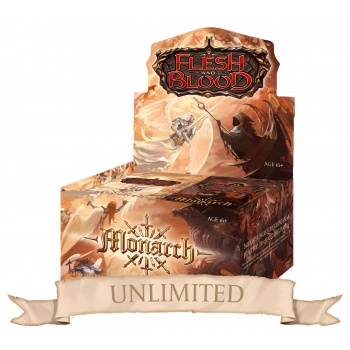 109.99 eur 89.99 euro
Articolo non in promozione

Tipologia

Lingua
Darkness, the canvas of the universe. Light, the brushstroke of creation. A forbidden power hungers to eclipse existence, wiping the canvas clean. The soul of Rathe stands resolute, a ray of hope to the artisans of civilization.
Monarch is a standalone booster set introducing four new heroes with all new mechanics, to play out the classic conflict of light vs
shadow across sealed deck, booster draft, and constructed formats.
Product Configuration:
• 307 cards in set
• 15 cards + 1 token per pack
• 24 packs per display
• 4 displays per case
Set Composition:
1 Fabled, 6 Legendary, 31 Majestic, 79 Rares, 13
Equipment, 159 Commons, 18 Tokens
Rarity Distribution:
• Premium Foil - 1 per pack (Rainbow Foil)
• Rare or higher - 1 + 1 per pack (1 Rare + 1 Rare/
Majestic)
• Equipment - 1 per pack
• Common - 11 per pack
• Token - 1 per pack
Spese di spedizioni gratuite
Magic Store
Magic Store nasce nel 1999 come negozio specializzato nell'Hobby Game. L'attività si sviluppa nel 2001 con l'apertura dello store online e l'inizio dell'attività di distribuzione. Oggi Magic Store distribuisce tutti i principali giochi di carte collezionabili e relativi accessori, miniature, giochi da tavolo, giocattoli e collezionabili in genere. Assortimento, servizio, cura del cliente e supporto alle attività di Gioco Organizzato sono la nostra missione. Mettici alla prova.


Facebook