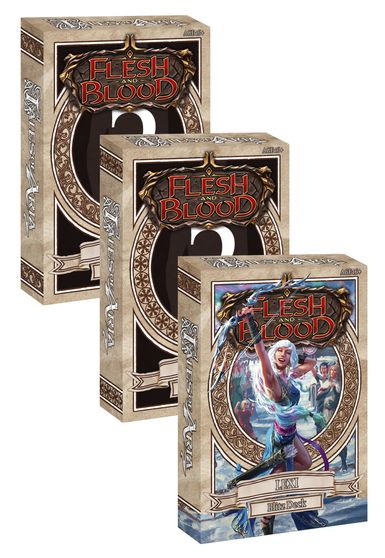 59.99 eur 44.99 euro
Articolo non in promozione

Tipologia

Lingua

Preordine

Disponibile dal 24 settembre
Ready-to-play out of the box, Tales of Aria Blitz Decks are crafted as an introduction product to Flesh and Blood and perfect for kitchen table gaming. Each Blitz Deck includes a rainbow foil hero card, a beautiful addition to the collection of new and experienced players alike.

40 card pre-constructed deck + hero, weapon and equipment cards.
9 decks per display (3 of each hero).
Designed for fun fast game play. Ideal for new players and kitchen table gaming.
Spese di spedizioni gratuite
Magic Store
Magic Store nasce nel 1999 come negozio specializzato nell'Hobby Game. L'attività si sviluppa nel 2001 con l'apertura dello store online e l'inizio dell'attività di distribuzione. Oggi Magic Store distribuisce tutti i principali giochi di carte collezionabili e relativi accessori, miniature, giochi da tavolo, giocattoli e collezionabili in genere. Assortimento, servizio, cura del cliente e supporto alle attività di Gioco Organizzato sono la nostra missione. Mettici alla prova.


Facebook