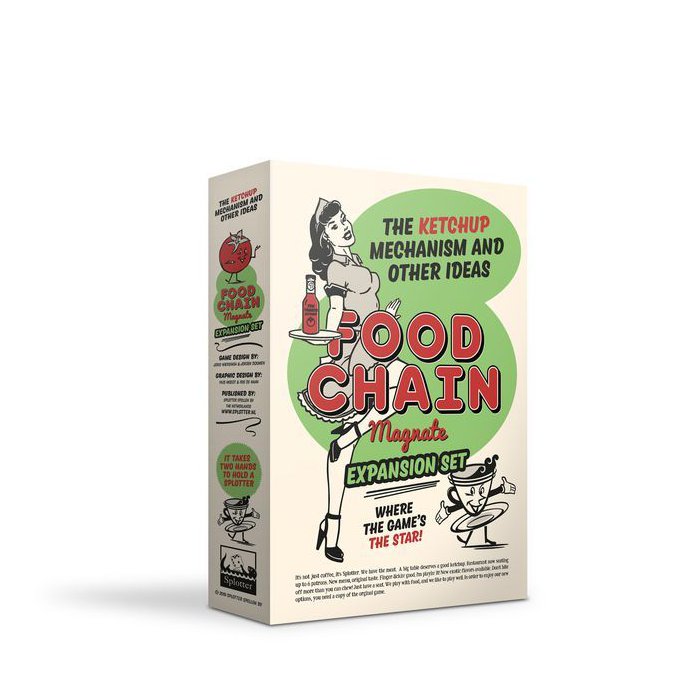 89.99 euro
Tipologia

Lingua
Gioco da tavolo in inglese
The Ketchup Mechanism and Other Ideas è un'espansione per il gioco gestionale di enorme successo di Food Chain Magnate. Questa espansione vi consentirà di aumentare il massimo numero di giocatori fino a 6, oltre a consentirvi di inserire nelle vostre partite una serie di nuovi moduli che stravolgeranno immensamente le vostre classiche strategie di gioco. Troverete infatti nuove pietre miliari da raggiungere, la possibilità di aprire una caffetteria con il proprio barista, nuove tessere con nuovi edifici, nuovi piatti con cui attrarre i clienti e nuovi impiegati con diverse professionalità da migliorare.
I vostri clienti vi stanno aspettando, chiedono a gran voce ketchup e caffè, non fateli aspettare o potrebbero andare a sfamarsi da qualche astuto concorrente!
Food Chain Magnate è il gioco gestionale in cui verrete catapultati negli anni '50 per riuscire a far decollare la vostra catena di fast food in modo da renderla la più diffusa d'America. Per riuscirci dovrete utilizzare le carte che dovrete ottenere in vario modo e che rappresenteranno il vostro personale.
Food Chain Magnate: The Ketchup Mechanism and Other Ideas è un gioco da tavolo gestionale edito da Splotter Spellen.
Attenzione: Food Chain Magnate: The Ketchup Mechanism and Other Ideas è una espansione e necessita di una copia di Food Chain Magnate per essere giocato!
Magic Store
Magic Store nasce nel 1999 come negozio specializzato nell'Hobby Game. L'attività si sviluppa nel 2001 con l'apertura dello store online e l'inizio dell'attività di distribuzione. Oggi Magic Store distribuisce tutti i principali giochi di carte collezionabili e relativi accessori, miniature, giochi da tavolo, giocattoli e collezionabili in genere. Assortimento, servizio, cura del cliente e supporto alle attività di Gioco Organizzato sono la nostra missione. Mettici alla prova.


Facebook