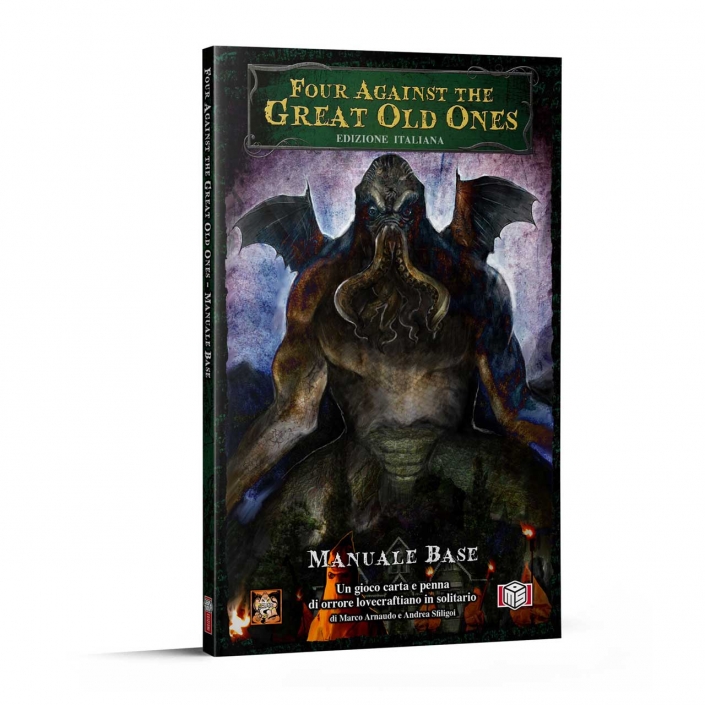 19.90 euro
Tipologia

Lingua
Gioco di ruolo in italiano
Tra 40 giorni, gli adepti di un oscuro culto saranno chiamati a raccolta in un luogo segreto degli Stati Uniti, dove evocheranno un'entità cosmica di orrore infinito! L'unica speranza del mondo risiede in quattro intrepidi investigatori che cercheranno in ogni modo di raccogliere indizi, identificare colpevoli e fermare il gran rituale prima che sia compiuto!
Four Against The Great Old Ones (Quattro Contro i Grandi Antichi) è un gioco carta e penna "old school" di orrore lovecraftiano, ambientato negli anni '30, giocabile in solitario, in cooperativa, o come un semplice gioco di ruolo.
È un gioco indipendente basato sul sistema di Four Against Darkness, con regole per la Sanità Mentale, gli Aiutanti, un sistema unico per gli indizi, 8 tipi diversi di personaggi, 6 possibili incontri finali sotto forma di mini-giochi e molto altro ancora...
Guidato dalla narrazione e fedele al materiale a cui si ispira, Four Against the Great Old Ones consente un coinvolgimento profondo nel mondo creato da H.P. Lovecraft.
Il gioco è progettato per essere impegnativo, e per vincere saranno necessari determinazione, coraggio, abilità e congiunzioni astrali favorevoli.
Oserete compiere questa pericolosa investigazione?
Oserete affrontare i Grandi Antichi?
Cod. ISBN: 9788831382274
Magic Store
Magic Store nasce nel 1999 come negozio specializzato nell'Hobby Game. L'attività si sviluppa nel 2001 con l'apertura dello store online e l'inizio dell'attività di distribuzione. Oggi Magic Store distribuisce tutti i principali giochi di carte collezionabili e relativi accessori, miniature, giochi da tavolo, giocattoli e collezionabili in genere. Assortimento, servizio, cura del cliente e supporto alle attività di Gioco Organizzato sono la nostra missione. Mettici alla prova.


Facebook