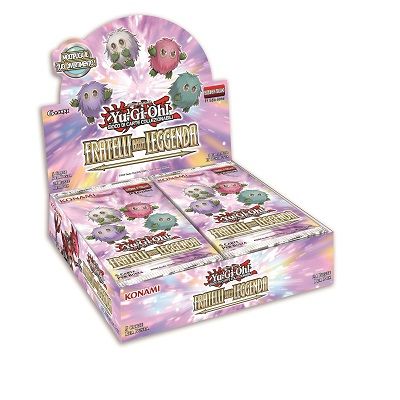 119.90 eur 89.90 euro
(Evasione parziale - Q.tà limitata)
Articolo non in promozione

Tipologia

Lingua
Entra in mischia il prossimo autunno! Moltiplica il tuo divertimento con questa espansione di sole carte foil che introduce in Yu-Gi-Oh! GIOCO DI CARTE COLLEZIONABILI carte inedite dalle prime 6 serie animate di Yu-Gi-Oh! In Battles of Legend 2021* saranno contenute carte appartenute a Yugi, Zane Truesdale, Syrus Truesdale, Sherry Leblanc, Yuma, e molti altri!
BROTHERS OF LEGEND ha quasi 60 carte inedite e oltre 30 carte del passato che torneranno nei Deck dei giocatori, con la rinnovata possibilità di avere la carta pilastro degli attuali tornei, Goccioline Proibite!
Spese di spedizioni gratuite
Magic Store
Magic Store nasce nel 1999 come negozio specializzato nell'Hobby Game. L'attività si sviluppa nel 2001 con l'apertura dello store online e l'inizio dell'attività di distribuzione. Oggi Magic Store distribuisce tutti i principali giochi di carte collezionabili e relativi accessori, miniature, giochi da tavolo, giocattoli e collezionabili in genere. Assortimento, servizio, cura del cliente e supporto alle attività di Gioco Organizzato sono la nostra missione. Mettici alla prova.


Facebook