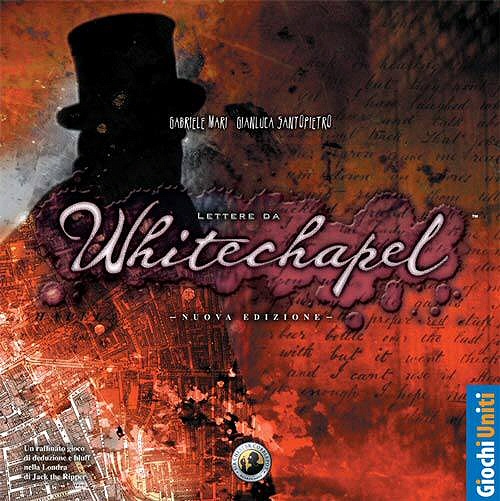 45.00 euro
Tipologia

Lingua

Lettere da Whitechapel è un raffinato gioco di deduzione e bluff ambientato nella Londra del 1888, "terreno di caccia" di Jack the Ripper, per 2/6 giocatori dai 13 anni in su.
Londra, 1888. Un intrico di vicoli affollati e maleodoranti.
Alcuni chiamano questo quartiere l'Inferno; altri, meno fortunati, semplicemente casa. Ci sono prostitute a ogni angolo di strada.
Le Sventurate, le chiamano, e mai termine fu più appropriato - soprattutto negli ultimi tempi. Benvenuti nel quartiere di Whitechapel. Benvenuti nelle strade di Jack the Ripper.
Cinque importanti detective di Scotland Yard sono sulle tracce del più pericoloso serial killer di tutti i tempi: Jack the Ripper!
Un giocatore è Jack, gli altri gli agenti che giocano tutti insieme. Jack sceglie segretamente il suo covo: è lì che tornerà ogni notte dopo il delitto. Sia Jack sia gli agenti hanno a disposizione finti indizi (nel caso di jack finte vittime, nel caso degli agenti finte ronde) per depistare le indagini.
Nell'intricato reticolo di strade e vicoli inizia la caccia a un misterioso assassino.
Magic Store
Magic Store nasce nel 1999 come negozio specializzato nell'Hobby Game. L'attività si sviluppa nel 2001 con l'apertura dello store online e l'inizio dell'attività di distribuzione. Oggi Magic Store distribuisce tutti i principali giochi di carte collezionabili e relativi accessori, miniature, giochi da tavolo, giocattoli e collezionabili in genere. Assortimento, servizio, cura del cliente e supporto alle attività di Gioco Organizzato sono la nostra missione. Mettici alla prova.


Facebook