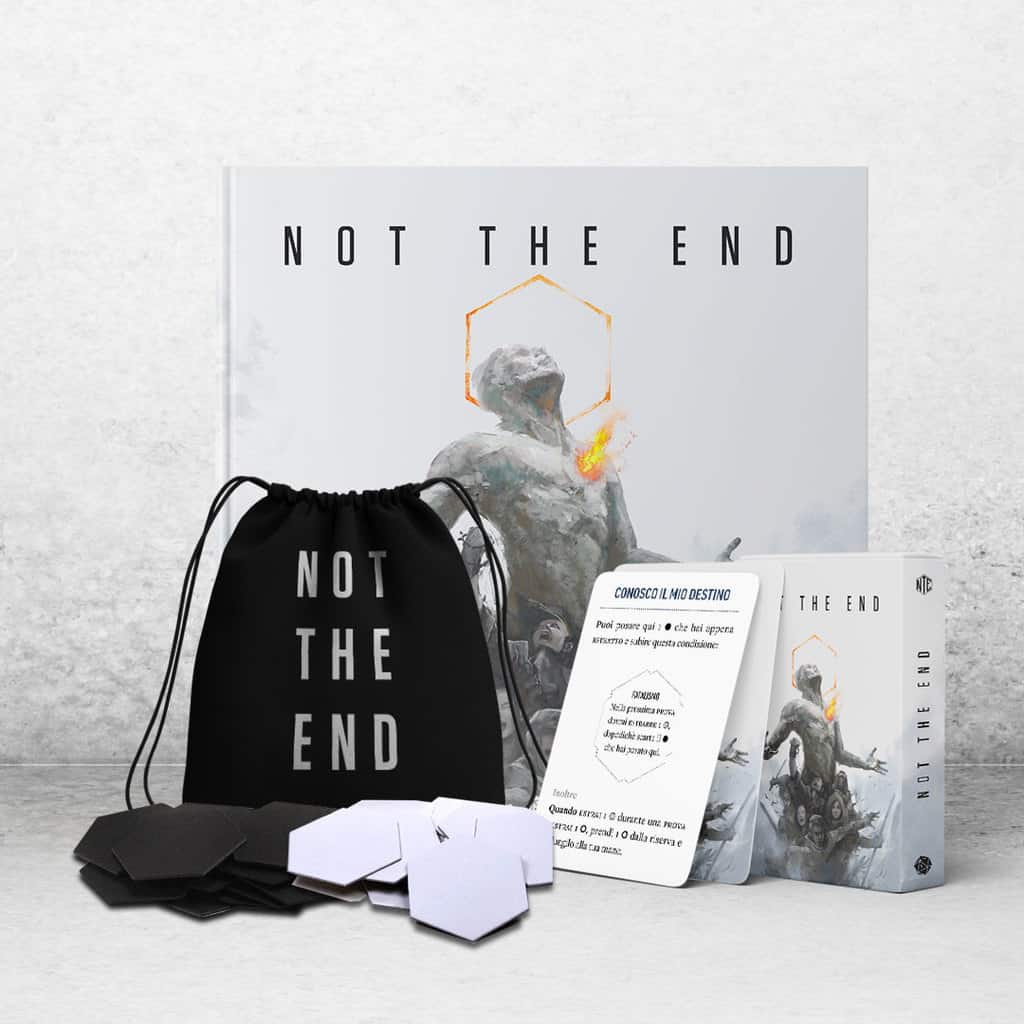 75.00 eur 65.00 euro
Tipologia

Lingua

Rientro

Disponibile da agosto 2020
Bundle di gioco di ruolo in italiano
Questo bundle contiene:
Una copia di Not the End manuale base

Una copia di Not the End: Token esagonali+sacchetto

Una copia di Carte Lezioni
Not the End è un gioco di ruolo che narra le avventure di Eroi disposti a rischiare tutto per ciò che considerano importante e lo fa con un sistema di gioco originale, chiamato HexSys.
HexSys é un sistema di gioco originale che utilizza token di diverso colore, che vengono inseriti ed estratti alla cieca da un sacchetto per risolvere le situazioni importanti durante la storia.
In HexSys ogni Eroe è descritto da parole chiave posizionate in un alveare di esagoni, ciascuno dei quali rappresenta uno dei suoi tratti distintivi. La vicinanza degli esagoni all'interno dell'alveare crea relazioni e legami che rendono ogni Eroe assolutamente unico.
GIOCA, RISCHIA, COMBATTI, DIBATTI, TRIONFA… FALLISCI. E POI RIALZATI.
QUESTA NON È LA FINE!
Cartonato tuttocolore - 288 pagine
Magic Store
Magic Store nasce nel 1999 come negozio specializzato nell'Hobby Game. L'attività si sviluppa nel 2001 con l'apertura dello store online e l'inizio dell'attività di distribuzione. Oggi Magic Store distribuisce tutti i principali giochi di carte collezionabili e relativi accessori, miniature, giochi da tavolo, giocattoli e collezionabili in genere. Assortimento, servizio, cura del cliente e supporto alle attività di Gioco Organizzato sono la nostra missione. Mettici alla prova.


Facebook