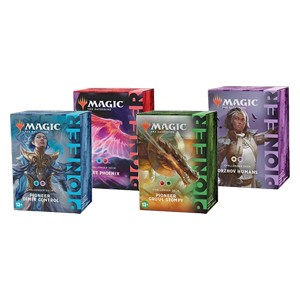 199.60 eur 169.99 euro
Articolo non in promozione

Tipologia

Lingua

Preordine

Disponibile dal 09 dicembre
These decks are built to battle in Pioneer!
Four different 75-card decks—each featuring a different strategy—are ready to play out of the box. Each Challenger Deck comes with a complete 60-card main deck and a 15-card sideboard, perfect for the next event at your local game store.
These decks are intended to be playable and competitive at a local level, ready to challenge friends and foes alike. All cards have been previously printed in Pioneer-legal sets and are legal in the Pioneer format.
Contents per Deck:
75 cards
6 DFC Helper cards
5 double-sided tokens
1 deck box
Spese di spedizioni gratuite
Magic Store
Magic Store nasce nel 1999 come negozio specializzato nell'Hobby Game. L'attività si sviluppa nel 2001 con l'apertura dello store online e l'inizio dell'attività di distribuzione. Oggi Magic Store distribuisce tutti i principali giochi di carte collezionabili e relativi accessori, miniature, giochi da tavolo, giocattoli e collezionabili in genere. Assortimento, servizio, cura del cliente e supporto alle attività di Gioco Organizzato sono la nostra missione. Mettici alla prova.


Facebook