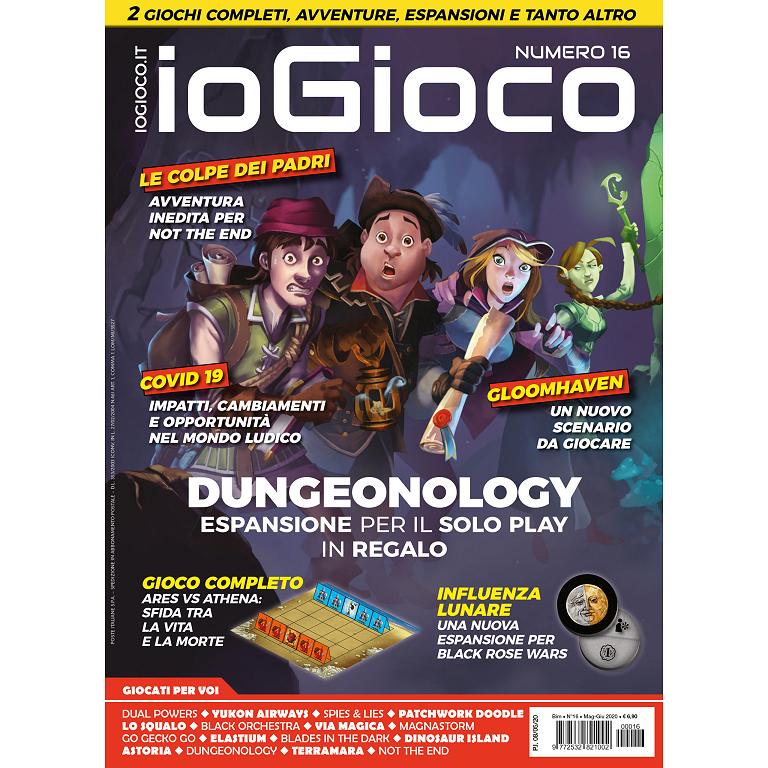 6.90 euro
Tipologia

Lingua
Rivista ioGioco, Numero 16 - Bimestrale (Maggio/Giugno 2020)
PREZZO AL PUBBLICO € 6,90 IVA ASSOLTA DALL'EDITORE (ART.74 DPR 633/72)
ioGioco 16 ha fotografato questo particolare momento storico, che ha inciso profondamente sul nostro settore e sulle nostre abitudini ludiche, ma che non ha intaccato la nostra voglia di giocare. Troverete analisi, speciali, dossier su quello che sta accadendo nel mondo ludico, ma anche racconti e consigli utili su come affrontare al meglio le limitazioni che questa emergenza richiede. Ecco perché il nuovo numero di ioGioco è più ricco di contenuti giocabili che mai!
Dungeonology – Prendiamo la laurea in dungeonologia anche in solitario con ioGioco 16
Il titolo di copertina del numero 16 è una delle primissime novità a raggiungere i negozi di giochi che, gradualmente, in questi giorni tornano alla normalità. Realizzato nella fucina creativa di Ludus Magnus e portato in Italia da Pendragon Game Studio, Dungeonology: La spedizione ci mette nei panni di aspiranti professori che puntano alla cattedra di dungeonologia. Grazie a Ludus Magnus troverete in esclusiva su ioGioco tutto il materiale necessario per affrontare la sfida anche in solitario!
Ares Vs Athena – Sfida sui campi di battaglia e nel regno dell'Ade
Il gioco inedito di questo numero è realizzato dall'esordiente Enrico Gandolfo e illustrato da Alan D'Amico, e ci vede prendere il comando di due eserciti impegnati in uno scontro all'ultimo sangue: Sparta contro Atene. Ma sul campo di battaglia non vi saranno solo i combattenti! Le due divinità, Ares e Athena, parteciperanno allo scontro e indirizzeranno le strategie dei rispettivi schieramenti comunicando in un modo veramente particolare: attraverso le anime dei guerrieri defunti. Un'appassionante sfida per due persone, giocabile anche a distanza!
Le colpe dei padri – Avventura per Not The End su ioGioco 16
Not the End è senz'altro uno dei casi editoriali più interessanti del settore ruolistico nostrano. Tra i progetti italiani più finanziati su Kickstarter, il manuale della giovane Fumble Gdr ha raggiunto le case dei suoi finanziatori e gli scaffali dei negozi proprio in questi giorni. Un progetto moderno che ben si sposa con le necessità di gioco online di questo periodo e per cui troverete un'avventura completa al centro della rivista, perfetta per comprendere il grado di libertà che il gioco permette.
In regalo con questo numero di ioGioco vi aspetta una nuova espansione per Black Rose Wars, l'apprezzato titolo di Ludus Magnus in cui ambiziosi maghi si sfidano per decretare chi sarà il nuovo Gran Maestro dell'Ordine della Rosa Nera. Con questi segnalini Influenza Lunare, pronti da ritagliare dal cartoncino che troverete al centro della rivista, i maghi della loggia acquisiranno nuovi poteri da usare in partita!
Strade d'Inchiostro – Versione speciale
Tra i roll&write, Le Strade d'Inchiostro di Horrible Guild si è distinto come uno dei più giocati in videoconferenza in questo periodo di quarantena. Proprio per permettere a tutti di provare questo titolo così "social" e immediato, sul numero 16 vi offriamo una versione speciale che Horrible Guild e Ghenos Games hanno reso perfettamente giocabile anche con dei normali dadi a sei facce, perfetta anche per prepararci alla nuova versione challenge, in arrivo su Kickstarter.
Gloomhaven – La fine del mondo
L'uscita di Gloomhaven ha cambiato i paradigmi del gioco da tavolo moderno segnando un enorme successo di pubblico anche in Italia. Durante il periodo di clausura molti giocatori hanno già macinato la campagna presente nell'enorme scatolone, quindi farà loro piacere provare questa missione speciale pubblicata su ioGioco 16 in collaborazione con Asmodee Italia: "La fine del mondo" permette di recuperare uno scenario fallito giocato precedentemente.
Blades in the dark: la mappa di Doskvol
Uscita attesissima per gli amanti del gioco di ruolo: arriva finalmente in Italia Blades in The Dark, immediatamente recensito sulle nostre pagine. Per agevolare i piani di scorrerie delle bande di canaglie che si apprestano ad affrontare la loro scalata criminale, su ioGioco 16 troverete la mappa dettagliata della città di Doskvol, realizzata in collaborazione con l'editore Grumpy Bear.
L'Italia che gioca riparte con ioGioco 16!
Magic Store
Magic Store nasce nel 1999 come negozio specializzato nell'Hobby Game. L'attività si sviluppa nel 2001 con l'apertura dello store online e l'inizio dell'attività di distribuzione. Oggi Magic Store distribuisce tutti i principali giochi di carte collezionabili e relativi accessori, miniature, giochi da tavolo, giocattoli e collezionabili in genere. Assortimento, servizio, cura del cliente e supporto alle attività di Gioco Organizzato sono la nostra missione. Mettici alla prova.


Facebook