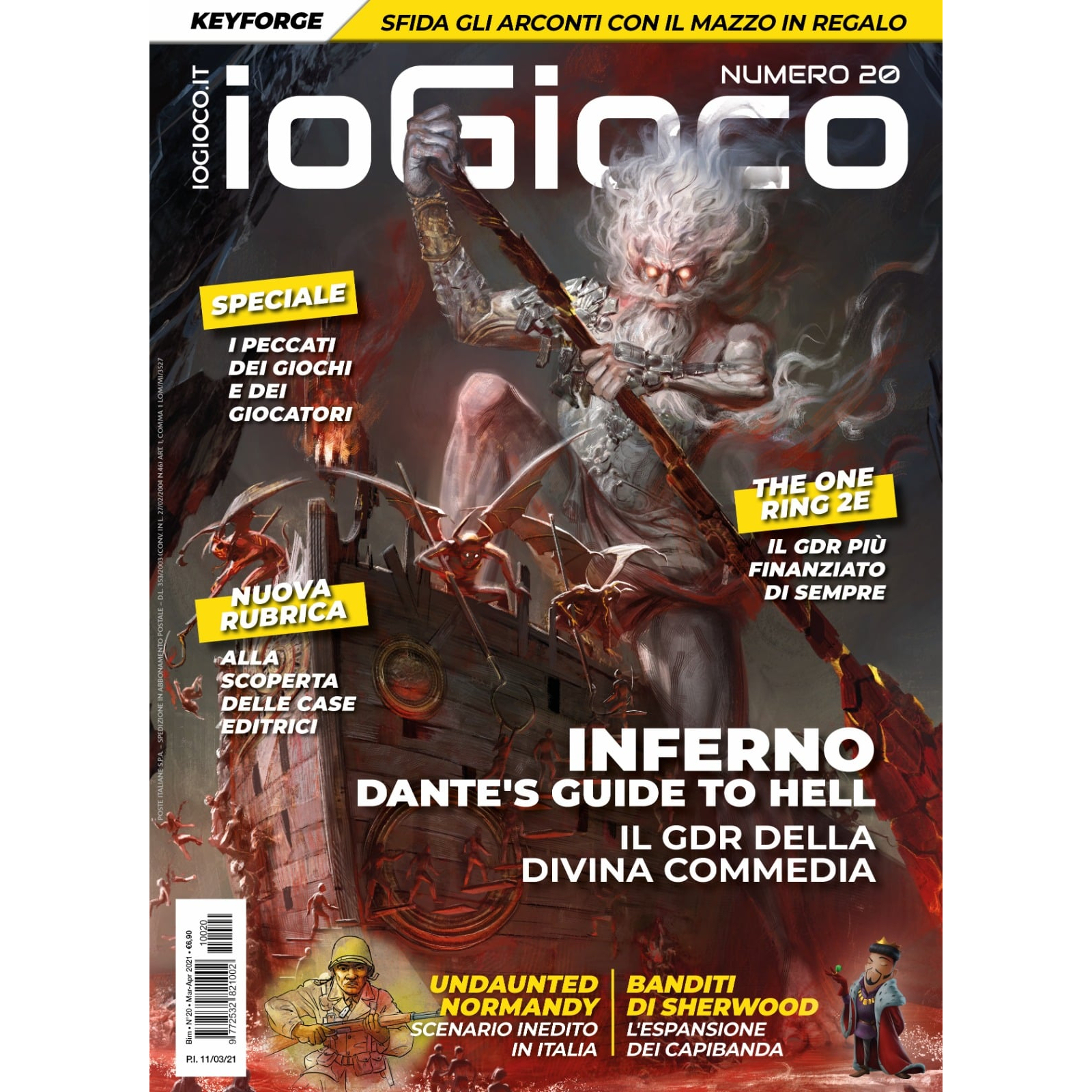 6.90 euro
Tipologia

Lingua
Rivista ioGioco, Numero 20 - Bimestrale (Marzo/Aprile 2021)
PREZZO AL PUBBLICO € 6,90 IVA ASSOLTA DALL'EDITORE (ART.74 DPR 633/72)
ioGioco vi regala un mazzo per giocare a Keyforge, allegato a un numero che partecipa alle celebrazioni dei 700 anni dalla morte di Dante.
KEYFORGE – FORGIA LE TUE CHIAVI CON IL MAZZO IN REGALO
Keyforge è l'entusiasmante gioco di carte in cui non esistono due mazzi uguali tra loro! Grazie alla collaborazione con Asmodee Italia, in allegato con il numero 20 di ioGioco troverete ad attendervi un mazzo unico al mondo che vi permetterà di partecipare alla competizione: pronti a forgiare le chiavi che apriranno le misteriose Cripte del Crogiolo? Su questo numero anche un approfondimento sulla prossima uscita della serie: Ondata Oscura!
DANTE ALIGHIERI E IL MONDO DEL GIOCO
ioGioco 20 omaggia l'opera di Dante Alighieri sin dalla copertina con una splendida illustrazione tratta da Inferno – Dante's Guide to Hell che raffigura Caronte, il traghettatore delle anime. Vi aspettano approfondimenti sul rapporto tra il sommo poeta e il mondo ludico, l'anteprima del cardgame realizzato per questa celebrazione da Sir Chester Cobblepot e uno speciale che immagina ironicamente i gironi dell'inferno più adeguati ai giochi e ai giocatori!
LA DIVINA COMMEDIA COME NON L'AVETE MAI GIOCATA
Per il nuovo gioco di ruolo di Acheron Books sarà disponibile un'avventura inedita realizzata da Two Little Mice e Epic Party Games per vivere la Divina Commedia con le regole della 5° Edizione: Sopra le Acque Cupe d'Acheronte, completamente giocabile grazie al quickstart disponibile online. Inoltre, non poteva mancare una versione spaghetti fantasy del sommo vate: preparatevi a incontrare Durante degli Aligeri nelle vostre prossime scorribande a Brancalonia!
L'ESPERIENZA SI ARRICCHISCE CON IOGIOCO 20 – SCENARI, ESPANSIONI E VARIANTI
Anche il numero 20 si conferma ricco di materiale pronto per espandere le partite ai vostri boardgame. Tra le pagine della rivista vi attendono le varianti per It's a Wonderful World, un nuovo personaggio per Nidavellir, uno scenario inedito per Undaunted Normandy e un'espansione completa per Banditi di Sherwood.
INTERVISTE ESCLUSIVE CON I PROTAGONISTI DEL MONDO LUDICO
Ancora una volta ioGioco ospita sulle sue pagine alcuni tra gli operatori più illustri del settore. Vi aspettano le interviste a Frédéric Guérard, uno dei boardgame designer più in vista del momento, e a Francesco Nepitello, reduce dal successo milionario di The One Ring seconda edizione. Inoltre prende il via da questo numero la nuova rubrica Editori per Gioco in cui scopriamo passato, presente e futuro delle case editrici: apriamo le danze con dV Giochi!
E ancora news, anteprime, recensioni e tutte le nostre rubriche!
Magic Store
Magic Store nasce nel 1999 come negozio specializzato nell'Hobby Game. L'attività si sviluppa nel 2001 con l'apertura dello store online e l'inizio dell'attività di distribuzione. Oggi Magic Store distribuisce tutti i principali giochi di carte collezionabili e relativi accessori, miniature, giochi da tavolo, giocattoli e collezionabili in genere. Assortimento, servizio, cura del cliente e supporto alle attività di Gioco Organizzato sono la nostra missione. Mettici alla prova.


Facebook