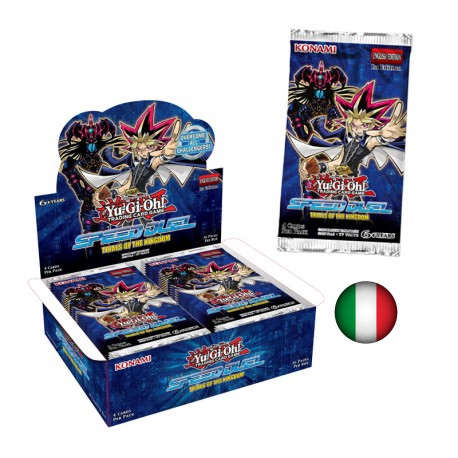 72.00 eur 56.90 euro
Tipologia

Lingua
Arriva l'espansione Speed Duel: Trials of the Kingdom!
Potenzia il tuo Deck Speed Duel con 46 carte inedite per lo Speed Duel e 5 nuovissime Skill Cards!
Zombie Master
Bonz può innestare l'abilità dello Zombie Master in uno Zombie che controlli, permettendogli di diventare un maestro della negromanzia e risorgere qualsiasi Zombie di Livello 4 o inferiore dal Cimitero!
Terrore dagli abissi!
La nuovissima Skill di Mako Tsunami sblocca i poteri nascosti di Kairyu-Shin, offrendo ai tuoi mostri ACQUA la protezione dalle trappole e di pescare più carte se il tuo Kairyu-Shin lascia il terreno di gioco!
Bozzolo of Ultra Evolution!
Questa Skill trasforma tutti gli insetti equipaggiati nell'altro lato del terreno, nei peggiori bachi di sistema immaginabili.
Speed Duel: Trials of the Kingdom contiene anche potenziamenti per i tuoi Deck! Potrai strappare carte dalla mano del tuo avversario con il leader dei Dark Scorpion: Don Zaloog; riportare indietro l'orologio con la Macchina del Tempo per riscrivere la storia; e riemergere come un Pesce, un Serpente Marino o un mostro Acquatico dal tuo Cimitero grazie a Riemersione!
Il set di Trials of the Kingdom contiene
51* carte:
34 Comuni
8 Super Rare
8 Ultra Rare
*Il set è composto da 46 carte e 5 nuove Skill Card.
*Nome e contenuto potrebbe essere soggetto a cambiamenti.
Magic Store
Magic Store nasce nel 1999 come negozio specializzato nell'Hobby Game. L'attività si sviluppa nel 2001 con l'apertura dello store online e l'inizio dell'attività di distribuzione. Oggi Magic Store distribuisce tutti i principali giochi di carte collezionabili e relativi accessori, miniature, giochi da tavolo, giocattoli e collezionabili in genere. Assortimento, servizio, cura del cliente e supporto alle attività di Gioco Organizzato sono la nostra missione. Mettici alla prova.


Facebook