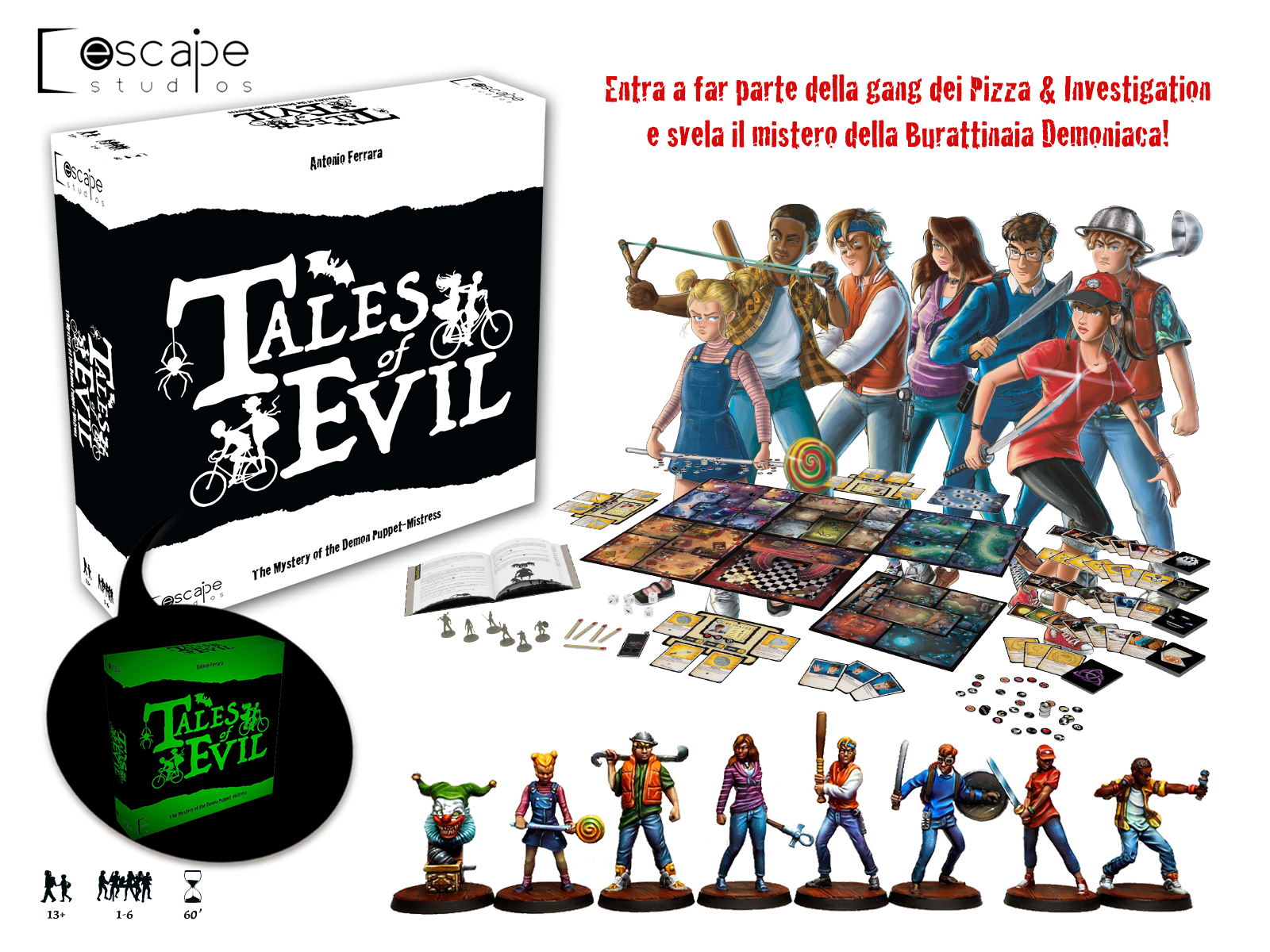 79.90 euro
Tipologia

Lingua
Gioco da tavolo in italiano
Se ti piacciono i giochi di orrore e sopravvivenza, allora sei nel posto giusto!
Vesti i panni di uno dei membri dei Pizza & Investigation e tuffati nel pieno degli anni 80'. Ora potrai vivere le avventure che hai sempre desiderato aprendo semplicemente la scatola.
Tales of Evil è un'esperienza da 1–6 Coraggiosi che assumeranno il ruolo di uno dei componenti di una gang di ragazzi: I Pizza & Investigation. Nel corso di ogni avventura i giovani Investigatori dovranno avventurarsi in luoghi abitati dalle forze del male e cercare di uscirne vivi, portando a compimento svariate missioni. Gli Investigatori dovranno utilizzare tutta la loro forza e intelligenza per fermare i Demoni che incontreranno sul loro cammino e il Male che risiede nei posti che esploreranno, ma potrebbe non bastare ed è qui che entrano in gioco i Coraggiosi, ovvero tu e i tuoi compagni. Tales of Evil è un'avventura che, in base alle tue decisioni, darà risultati diversi. Sarai tu il protagonista e il solo responsabile del tuo destino e quello dei tuoi amici.
Contenuto: 1 Regolamento, 2 Libri delle storie, 1 Libro degli eventi. 5 Dadi, 6 Plance, 7 Schede Investigatore, 7 Sagome Investigatore, 1 Plancia degli avvenimenti, 1 Clessidra, 6 Basi Investigatore, 7 Miniature investigatore, 1 Miniatura Aberrazione, 216 Carte, 150 + Segnalini.
Magic Store
Magic Store nasce nel 1999 come negozio specializzato nell'Hobby Game. L'attività si sviluppa nel 2001 con l'apertura dello store online e l'inizio dell'attività di distribuzione. Oggi Magic Store distribuisce tutti i principali giochi di carte collezionabili e relativi accessori, miniature, giochi da tavolo, giocattoli e collezionabili in genere. Assortimento, servizio, cura del cliente e supporto alle attività di Gioco Organizzato sono la nostra missione. Mettici alla prova.


Facebook