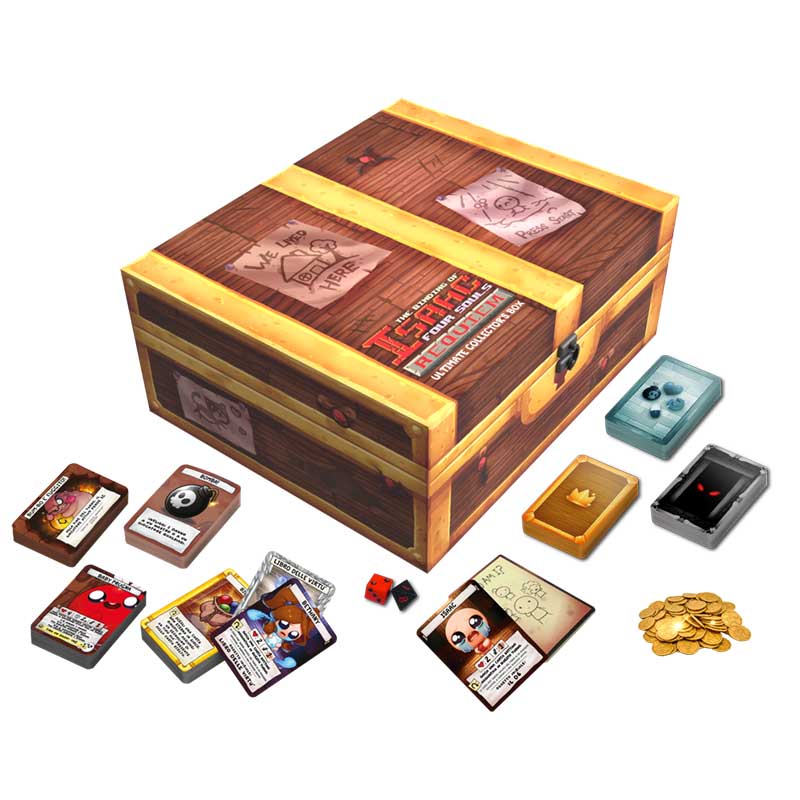 149.90 euro
(Evasione parziale - Q.tà limitata)
Articolo non in promozione

Tipologia

Lingua

Preordine

Disponibile dal 28 aprile
Ritornate nel seminterrato con questa enorme collezione per The Binding of Isaac: Four Souls!
All'interno di questo scrigno (stampato in tiratura limitata) troverete il gioco base nella sua seconda edizione, la nuovissima espansione Requiem, più di 90 carte dell'espansione Four Souls+ (che sono disponibili in italiano solo all'interno della Ultimate Collector's Box), dadi, monete e i segnalini cuore e lacrima in versione deluxe.
Volete entrare a far parte del mondo di The Binding of Isaac? Allora questa è l'edizione perfetta per degli appassionati come voi!
Contenuto della Ultimate Collector's Box


· 240+ carte dell'espansione requiem
· 300+ carte della seconda edizione di boi
· 90+ carte dell'espansione four souls+
· 100 monete penny corrotto
· 10 monete nichelino
· dadi personalizzati
· sacchetto "corrotto" per le monete
· 15 segnalini cuore
· 15 segnalini lacrima
· 10 divisori per le carte
· Regolamento
Spese di spedizioni gratuite
Magic Store
Magic Store nasce nel 1999 come negozio specializzato nell'Hobby Game. L'attività si sviluppa nel 2001 con l'apertura dello store online e l'inizio dell'attività di distribuzione. Oggi Magic Store distribuisce tutti i principali giochi di carte collezionabili e relativi accessori, miniature, giochi da tavolo, giocattoli e collezionabili in genere. Assortimento, servizio, cura del cliente e supporto alle attività di Gioco Organizzato sono la nostra missione. Mettici alla prova.


Facebook