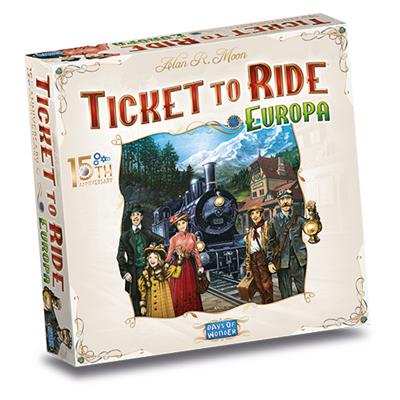 99.90 euro
Tipologia

Lingua
Gioco da tavolo in italiano
Ticket to Ride Europa festeggia i suoi 15 anni con nuova edizione limitata, da collezione.
Dal frenetico paesaggio all'ombra del Big Ben agli imponenti archi del Colosseo di Roma, dalle brillanti cupole di Mosca alla delicata Torre Eiffel a Parigi, Ticket to Ride Europa porta i giocatori in un'indimenticabile avventura ferroviaria attraverso le grandi citta dell'Europa di inizio secolo.
Questa versione deluxe ed ampliata di Ticket to Ride Europa celebra anni di emozionanti avventure ferroviarie per molte famiglie e amici. Con miniature di vagoni finemente dettagliate presentate dentro bellissime e uniche scatole di latta, il gioco è stato impreziosito con nuove, magnifiche illustrazioni e ampliato con tutti i Biglietti Destinazione pubblicati fino ad oggi.
"È difficile credere che siano passati 15 anni. Ticket to Ride Europa sembra ancora così fresco e giovane. Ma questa versione maxi è grande non solo nei materiali ma anche nei contenuti" dice Alan R. Moon, il designer del gioco. "I nuovi vagoni, le nuove stazioni e la nuova grafica rendono il gioco assolutamente stupendo da guardare sul tavolo da gioco. Spero che vi godrete altri 15 anni di divertimento".
NOTE IMPORTANTI: Si tratta di una stampa relativa all'anniversario del gioco, per l'appunto. Avremo la possibilità di richiedere una sola ristampa prevista indicativamente per ottobre.
Alla luce di ciò, vi chiediamo pertanto di effettuare ordini sensati per l'uscita di giugno, consapevoli del fatto che potrete ricevere altri pezzi in ottobre.
Non prevediamo allocazione ma, come ormai sapete, non è detto che riusciamo a garantire le quantità che richiederete con la prima tiratura.
Contenuto: 1 mappa gigante delle tratte ferroviarie europee con nuove illustrazioni, 5 scatole di latta, ciascuna contenente 45 Vagoni finemente dettagliati, 15 Stazioni ferroviarie colorate, 5 segnapunti, 1 Regolamento, 110 carte Treno, tutte le 108 carte Biglietto Destinazione pubblicate fino ad oggi, 1 carta bonus European Express e 1 carta Grandi Città d'Europa.
Magic Store
Magic Store nasce nel 1999 come negozio specializzato nell'Hobby Game. L'attività si sviluppa nel 2001 con l'apertura dello store online e l'inizio dell'attività di distribuzione. Oggi Magic Store distribuisce tutti i principali giochi di carte collezionabili e relativi accessori, miniature, giochi da tavolo, giocattoli e collezionabili in genere. Assortimento, servizio, cura del cliente e supporto alle attività di Gioco Organizzato sono la nostra missione. Mettici alla prova.


Facebook