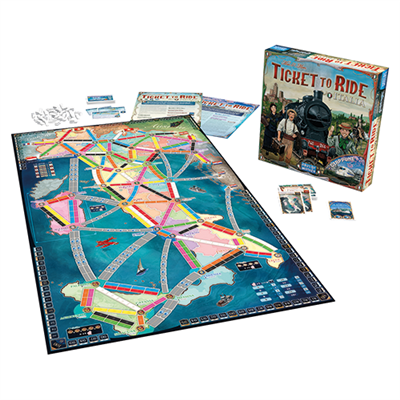 39.90 euro
Tipologia

Lingua
Gioco in scatola in italiano
Se ci arriva per tempo,l'avremo in anteprima a Lucca e sarà spedibile per tutti voi non appena raggiungerà i nostri magazzini!
La novità targata Ticket to Ride ha un sapore tutto italiano, o quasi!
Questa espansione per Ticket To Ride possiede la mappa più lunga della Map Collection e contiene delle miniature dei vagoni del Treno Proiettile.
Da un lato la mappa dell'Italia dove si acquisiscono punti collegando più regioni possibile, dall'altra quella del Giappone con una nuova meccanica legata alle linee del famigerato treno proiettile!
Magic Store
Magic Store nasce nel 1999 come negozio specializzato nell'Hobby Game. L'attività si sviluppa nel 2001 con l'apertura dello store online e l'inizio dell'attività di distribuzione. Oggi Magic Store distribuisce tutti i principali giochi di carte collezionabili e relativi accessori, miniature, giochi da tavolo, giocattoli e collezionabili in genere. Assortimento, servizio, cura del cliente e supporto alle attività di Gioco Organizzato sono la nostra missione. Mettici alla prova.


Facebook