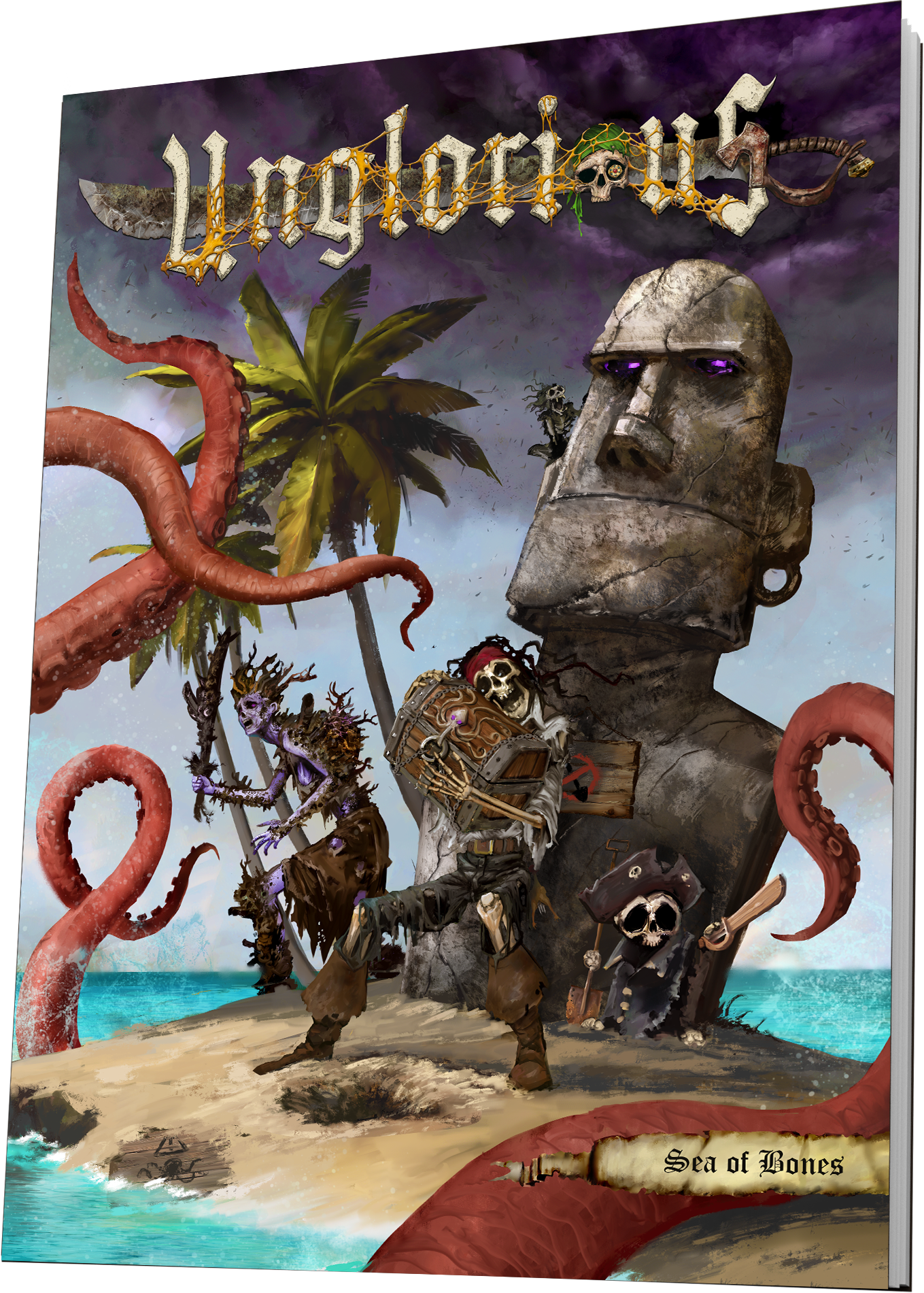 25.00 euro
Tipologia

Lingua

Preordine

Disponibile da ottobre 2021
Supplemento per Unglorious in italiano
Avete mai sognato di diventare un pirata? E di risorgere come pirata non morto? Con Unglorious GdR necro-fantasy - Sea of Bones (PDF incluso), avrete la risposta a entrambe queste domande!
Il vento si alza, il sole svanisce attraverso nubi cineree e gocce di pioggia, dapprima piccole e rade, poi grandi e fitte come pugni d'acqua, si abbattono su di voi… ed è così che vi siete ritrovati nell'Orto!
Bentornati nel mondo dei morti e, più nello specifico, nell'Era dei Filibossieri! Sono passati molti anni da quando gli avventurieri attraversavano le radure verdeggianti, i boschi misteriosi e i castelli vegliati dai draghi. E magari chissà, è proprio da lì che provenite!
Ora è il mare che vi chiama e, con esso, tutti i misteri e i tesori che cela. Stavolta la vostra fine ingloriosa non vi farà risorgere dalla terra, ma risalire a galla nel Mar Mora, ovvero quell'immensa distesa di acqua salata abitata da mostri abissali, ciurme di pirati e tribù esotiche che bagna le coste delle Cinque Terre.
Viaggerete fra il mare dei vivi e quello dei morti, lotterete contro la gaudioflotta e le torri-sottomarino dei Necroamanti, abborderete navi per sgraffignare i loro tesori e vi avventurerete in isole remote dove regnano le forze del whodo.
Il mare vi aspetta. Siete pronti o preferite rigirarvi nella tomba ancora un po' prima di decidervi a risalire?
Unglorious: Sea of Bones PDF, è un'espansione per il gioco di ruolo necro-fantasy di Unglorious, contenente tutto il necessario per giocare nell'Era dei Filibossieri: l'era della corsa all'oro, dei pirati e dell'esplorazione dei mari, il tutto condito con l'ironia tipica di Unglorious... e naturalmente con tanta, tanta morte.
Risorgi nei mari del mondo dei morti, riemergi con la tua bagnarola e la tua ciurmaglia nel Mar Mora, vai alla ricerca di tesori nascosti, esplora isole pregne delle forze del Whodo e... occhio alle maledizioni!
Con l'acquisto è inclusa La Mappa del Mar Mora, disponibile SOLO con il pre-ordine!
Unglorious: Sea of Bones (PDF Incluso) contiene:
•Manuale in formato digitale
•Background dell'Era dei Filibossieri;
•Ambientazione del Mar Mora e del Mare dell'Orto, con descrizione di ciurme, porti e isole;
•Regole per formare la propria ciurma e per la navigazione;
•Equipaggiamento comprensivo di nuove armi, nuovi poteri, nuovi oggetti e ovviamente, le NAVI;
•4 nuovi Tipi di Morto;
•7 nuovi profili di Bestiario, incluse le tabelle per la creazione dei Mostri Marini;
•L'Isola del Tes... Orto, mini-campagna per neo-pirati risorti;
•Mappa del Mar Mora a colori, disponibile solo tramite pre-ordine.
Formato: A4, brossura
Pagine: 120, colori
Anno: 2021
Magic Store
Magic Store nasce nel 1999 come negozio specializzato nell'Hobby Game. L'attività si sviluppa nel 2001 con l'apertura dello store online e l'inizio dell'attività di distribuzione. Oggi Magic Store distribuisce tutti i principali giochi di carte collezionabili e relativi accessori, miniature, giochi da tavolo, giocattoli e collezionabili in genere. Assortimento, servizio, cura del cliente e supporto alle attività di Gioco Organizzato sono la nostra missione. Mettici alla prova.


Facebook