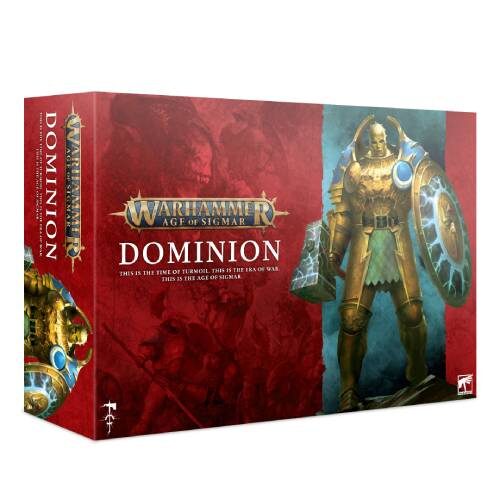 155.00 euro
Articolo non in promozione

Tipologia
Le Guerre delle Anime sono finite, ma un nuovo conflitto è in procinto di scoppiare nel Regno delle Bestie.
È un'epoca di grandi cambiamenti nei Reami Mortali. Un'ondata di energia vitale spazza gli otto regni respingendo la marea di morte seguita al Necrosisma; le forze dell'Ordine non esitano a rivendicare le terre appena rigenerate, ma il dio della Distruzione Kragnos, liberatosi dalla sua prigione, scatena una guerra di vendetta a Ghur. I Figli Eterni della Tempesta devono combattere la battaglia più dura per proteggere i pionieri delle Crociate dell'Alba.
Se vuoi tuffarti a capofitto nella nuova edizione di Warhammer Age of Sigmar, questa magnifica scatola fa al caso tuo. Warhammer Age of Sigmar: Dominio contiene due potenti armate: i riforgiati Figli Eterni della Tempesta affrontano la minaccia emergente dei Krudelazzi, orruk astuti e letali provenienti dalle paludi di Ghur. Il set include anche una versione esclusiva per Dominio del Libro Base di Warhammer Age of Sigmar, che fornisce moltissime informazioni sul background della fantastica ambientazione del gioco e una serie completa di regole per giocare emozionanti partite con le tue miniature Citadel.
Spese di spedizioni gratuite
Magic Store
Magic Store nasce nel 1999 come negozio specializzato nell'Hobby Game. L'attività si sviluppa nel 2001 con l'apertura dello store online e l'inizio dell'attività di distribuzione. Oggi Magic Store distribuisce tutti i principali giochi di carte collezionabili e relativi accessori, miniature, giochi da tavolo, giocattoli e collezionabili in genere. Assortimento, servizio, cura del cliente e supporto alle attività di Gioco Organizzato sono la nostra missione. Mettici alla prova.


Facebook