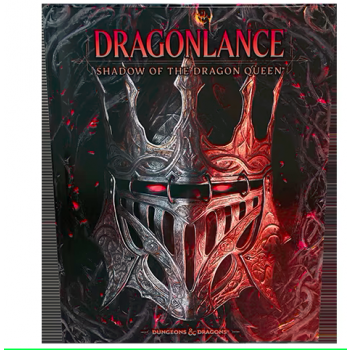 54.90 eur 49.90 euro
Articolo non in promozione

Tipologia

Lingua
March to war against the Dragon Armies in this adventure for the world's greatest roleplaying game.
Takhisis the Dragon Queen has returned to the world of Krynn. Across the land, her armies of fanatical draconians wage a brutal war of conquest. As the Dragon Armies march on the unprepared nation of Solamnia, only the defenders of the city of Kalaman stand in their way. But the Dragon Armies want more than just to crush their foes. An ancient evil in the Dragon Queen's service seeks a magical weapon that could dominate Krynn for all time.
Dragonlance: Shadow of the Dragon Queen is a tale of conflict and defiance set during the legendary War of the Lance. Create characters from Krynn, the world of the Dragonlance setting, then march them to the front lines of battle against the terrifying Dragon Armies.
Optionally, use the Dragonlance: Warriors of Krynn board game to bring this adventure's massive battles to your Dungeons & Dragons game.
Magic Store
Magic Store nasce nel 1999 come negozio specializzato nell'Hobby Game. L'attività si sviluppa nel 2001 con l'apertura dello store online e l'inizio dell'attività di distribuzione. Oggi Magic Store distribuisce tutti i principali giochi di carte collezionabili e relativi accessori, miniature, giochi da tavolo, giocattoli e collezionabili in genere. Assortimento, servizio, cura del cliente e supporto alle attività di Gioco Organizzato sono la nostra missione. Mettici alla prova.


Facebook