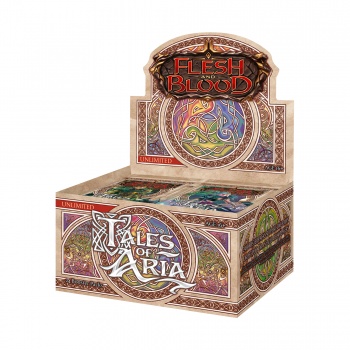 149.99 eur 69.90 euro
Articolo non in promozione

Tipologia

Lingua
The protectors of Isenloft awaken from their endless winter slumber. The wardens of Candlehold sharpen their thorns within the blossoming undergrowth. The prophets of Volthaven set their sights on a future painted by great aurora.

Tales of Aria is a standalone booster set introducing three new heroes with all new mechanics, as we explore the vibrant land of Aria and the troubles that lie within. Designed for exceptional sealed deck, booster draft, and constructed format play.

238 card set (1 Fabled, 6 Legendary, 27 Majestic, 54 Rares, 136 Commons, 14 Tokens)
Designed to support sealed deck and booster draft
Contains cold foils.
Prodotto soggetto ad alloccazione.
Spese di spedizioni gratuite
Magic Store
Magic Store nasce nel 1999 come negozio specializzato nell'Hobby Game. L'attività si sviluppa nel 2001 con l'apertura dello store online e l'inizio dell'attività di distribuzione. Oggi Magic Store distribuisce tutti i principali giochi di carte collezionabili e relativi accessori, miniature, giochi da tavolo, giocattoli e collezionabili in genere. Assortimento, servizio, cura del cliente e supporto alle attività di Gioco Organizzato sono la nostra missione. Mettici alla prova.


Facebook